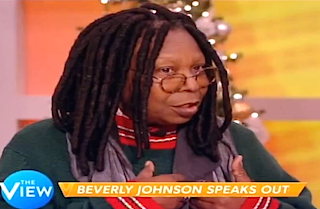 More than perhaps any other public commentator, The View's Whoopi Goldberg has been outwardly skeptical of the rape allegations against Bill Cosby, saying last month that she was eager to ask one of his accusers some questions about the alleged incidents. Her defense of Cosby was enough to warrant a personal thank you from the comedian on Twitter.
This morning, she got her chance to speak with Cosby's most recent accuser, model Beverly Johnson, who claims she was drugged by the comedian at his Manhattan apartment decades ago, but managed to stay conscious and escape before any sexual assault occurred.
Johnson relayed her story to the panel and then after a break, Goldberg asked her some pointed questions about her memory of the experience. "Was it such a feeling, the drugs, that you weren't worried what it might be?" Goldberg asked. "If you know that you've been drugged, were you worried about what you might have ingested?"
"At that point, I was just struggling to stay conscious," Johnson said. "So at that point, you're not thinking about anything except for what I just told you."
"Did you ask the doorman the next day what condition you were or did you say anything?" Goldberg asked.
"No I didn't. I basically just put my head down and just tried to get out from the embarrassment and the shame," Johnson answered, before moving the discussion away from her own experience. "This is not about Mr. Cosby. He's just a lightning rod for a conversation about violence against women."
While it was not entirely clear what Goldberg was trying to get at with her line of questioning, there were evidently elements of Johnson's story that she found unconvincing.
Watch videos below, in two parts, via ABC:
[Photo via screengrab]
— —
>> Follow Matt Wilstein (@TheMattWilstein) on Twitter
Have a tip we should know? tips@mediaite.com