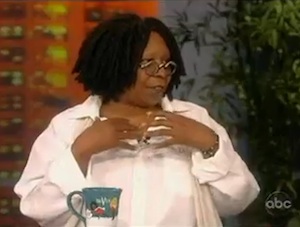 Whoopi Goldberg explicitly dished repeatedly on female "pudenda" in a graphic discussion on porn with the panelists of The View as audience members laughed nervously. "I like porn, I think porn is good for — yes, I do. I think it's good," Goldberg acknowledged. "I will tell you what bothers the hell out of me, because this is something that I should have watched over the years. When you see where porn stars are– the women, what their pudendas look like, you can track what other women are going to be doing… there used to be a time when a woman's pudenda — they looked like women. Then suddenly it became like a landing strip, and then it became bald, and I'm saying what's wrong with that is they made it what a young girl's pudenda looks like…it's bad because I understand you want to do some grooming, but to make yourself look like you did when you were 12 or 13 sends a message to people that you want a kid's body."
RELATED: Whoopi Goldberg Tells Audience Of The View That She Travels With Her Vibrator
"I like Hitler's moustache as a look," Joy Behar provocatively quipped, referring to her nether regions, to stunned silence.
Following Behar's X-rated joke, Goldberg, sensing how adult the "hot topic" had become, immediately cut to commercial.
While body image obviously is an important subject matter for women, the shockingly frank talk about genitalia (and frequent use of the term pudenda) on network television perhaps went a little too far for many daytime viewers. ABC might want to consider airing a viewer discretion advised warning before such topics are discussed.
Watch Whoopi's frank discussion of "pudenda" on ABC:

Have a tip we should know? tips@mediaite.com