Whoopi Goldberg Mocks Conservative Guest Host: 'Spoken Like a True White Guy'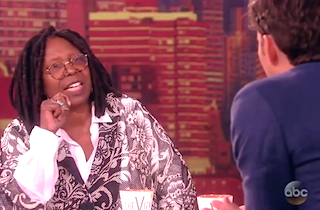 Things got heated on the set of The View Thursday when Whoopi Goldberg brought up comments comedian Russell Brand made attacking Fox News yesterday. TheBlaze's Will Cain, who was sitting in as guest host, went after Brand's "inappropriate" words, and got some pushback from Goldberg and Sherri Shepherd.
"I think it's part of this whole trend we have," Cain said. "We elevate words to the most harmful thing in society. How dare you say something that could offend somebody? How dare you say something that hurts my feelings? Why have we gone to this place where words are the worst thing?"
"Let me tell you why," Goldberg shot back, giving Cain a lesson on America's "history of utilizing words to harm people and hurt people." She said "the people who have been on the other side of it, I think are at the point where they're saying, this is not okay anymore."
When Cain invoked the old saying "sticks and stones may break my bones, but words can never hurt me," the rest of panel loudly voiced their opposition to its sentiment.
"Words do hurt you," Shepherd asserted.
Goldberg brought up the controversy over the Washington Redskins to defend minority groups' rights to get angry over offensive language.
"We'll all be out of business, we'll all stop talking," Cain replied. "Everybody's offended all the time, from the Fighting Irish to the Redskins. Everyone's offended."
"That is spoken like a true white guy," Goldberg replied, insisting she doesn't mean that "in a bad way."
Watch video below, via ABC:
[h/t The Wrap]
[Photo via screengrab]
— —
>> Follow Matt Wilstein (@TheMattWilstein) on Twitter
Have a tip we should know? tips@mediaite.com