Whoopi Goldberg on Date Rape: 'If You Don't Want This Kind of Attention, Don't Get Poop-Faced'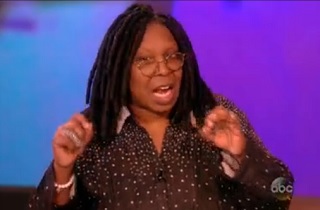 The Wall Street Journal's James Taranto has successfully trolled the universe with his column about rape, as evidenced by the fact that it washed up on the mainstream shore of The View Wednesday morning. In a discussion of Taranto's absurd metaphor of rape as a "collision" between two drunk drivers, co-host Whoopi Goldberg weighed in by explaining that "if you don't want this kind of attention, don't get poop-faced. Do not get poop-faced. Do not become so drunk you don't know what is happening."
Taranto's column is drawing fire for a paragraph in which he makes the following comparison between drunk driving and sexual assault:
If two drunk drivers are in a collision, one doesn't determine fault on the basis of demographic details such as each driver's sex. But when two drunken college students "collide," the male one is almost always presumed to be at fault. His diminished capacity owing to alcohol is not a mitigating factor, but her diminished capacity is an aggravating factor for him.
In discussing Taranto's column on Wednesday morning's The View, co-host Jenny McCarthy got it mostly right when she said "I think no means no, period, no matter where you're at," without also pointing out that "not yes" also means no. She added that "In college, I went to so many after parties, that does not mean I'm giving an okay to have sex."
Another co-host pointed out that rape is not a "collision," it is an aggressive act, but Sherri Shepherd asked if "two people are so inebriated and neither one of them — both of them are waking up surprised or remorseful, how does the guy get to say she said no, because he's not even in his right mind as well?"
Barbara Walters explained that "the point is that he supposedly, because of the different sexes, because he's the one who is being the perpetrator, or penetrator, okay?"
Whoopi Goldberg finally added "My opinion is, if you don't want this kind of attention, don't get poop-faced. Do not get poop-faced. Do not become so drunk you don't know what is happening. When you say 'x, y, z happened,' you have no way of proving it. So both parties, if you don't want the agitation, do not become so drunk you can't figure out what the hell you're doing."
The line got huge applause from the audience.
The problem with that, or a problem among many, is that it creates exactly the parity between rapist and rape victim that Taranto is trying to promote. A woman has no duty to provide consent, or to deny it. As Walters indelicately put it, in the cases of rape being discussed here, it is 100% the duty of the male to secure consent, or to do nothing, because his is the initiating act. There is no ambiguity, no matter how badly Taranto wants there to be, and the idea that an impaired rape survivor's testimony would not be ripped to shreds by a defense attorney (or a prosecuting attorney before it ever got that far) is a sick fantasy. That is one of the reasons less than half of all rapes are reported, while only 12% of rapes result in an arrest, 5% in felony convictions, and 3% in jail time. No one is going to jail because two people woke up and felt remorseful about drunken sex.
The rape apologist's stock-in-trade is to create parity between the act of being raped, and the experience of being falsely accused of rape, but aside from the completely unbalanced consequences of those two events, the "crying rape" phenomenon is exceedingly rare. Remember that only 3% of rapes result in jail time, while according to the FBI, only 8% of rape cases are classified as "unfounded," a definition that, itself, leaves room for rapes that actually occurred:
This statistic is almost meaningless, as many of the jurisdictions from which the FBI collects data on crime use different definitions of, or criteria for, "unfounded." That is, a report of rape might be classified as unfounded (rather than as forcible rape) if the alleged victim did not try to fight off the suspect, if the alleged perpetrator did not use physical force or a weapon of some sort, if the alleged victim did not sustain any physical injuries, or if the alleged victim and the accused had a prior sexual relationship. Similarly, a report might be deemed unfounded if there is no physical evidence or too many inconsistencies between the accuser's statement and what evidence does exist. As such, although some unfounded cases of rape may be false or fabricated, not all unfounded cases are false.
The flipside of Taranto's premise, of course, is that a man could feel free to rape any woman he wants to, as long as he could substantiate a state of impairment in which he was unable to divine consent, regardless of his partner's condition. That's not just sick, it's dangerous.
Here's the clip, from The View:
Have a tip we should know? [email protected]