Whoopi Goldberg on PC Culture: Maybe Comics Should 'Find Other Ways to Be Funny'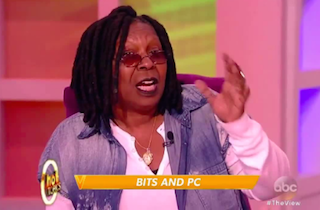 Recent comments by comedians like Jerry Seinfeld and Colin Quinn have once again reignited the debate over the effect that "politically correct culture" is having on comedy in America. And on Thursday, stand-up comic-turned-talk show host Whoopi Goldberg used her platform on The View to challenge the notion that comedians should be able to say whatever they want.
After playing a clip of the "gay French king" joke that Seinfeld says now elicits groans from his audience, Goldberg said, "Listen, comics are always offensive, that's our job. We offend everybody."
"But having been on the other side of some of these jokes, yeah, people don't want to hear them," she continued. "Gay people may not want to be referenced that way. I think they have the right to say that and I think we've got to find other ways to be funny if that's what it is. If you feel like it's too hard to be funny without perhaps offending somebody, maybe you should find different stuff."
Nicolle Wallace said that politicians have been complaining about "PC culture" for a long time, but now that comedians are doing the same people may finally start paying attention. "We have become hostages of political correctness," she said. "And I hope people lighten up a bit."
When Wallace noted that Seinfeld and Quinn are two very popular comedians speaking out against this issue, Goldberg countered by saying it's because "they're not on the other end of it" — i.e., they are straight, white men.
"There are consequences. If you're going to do it, have the balls to accept when people don't like it," Goldberg added before changing her tune a bit from the top of the segment. "You've got to make a decision as a comic. I don't care if people are offended. You know what I do. If you come to my show, that's what you're going to get."
Watch video below, via ABC:
[Photo via screengrab]
— —
>> Follow Matt Wilstein (@TheMattWilstein) on Twitter
Have a tip we should know? tips@mediaite.com