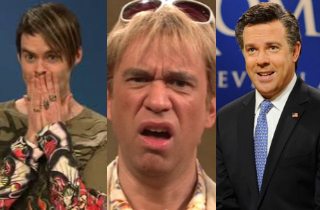 Season 38 of Saturday Night Live is coming to a close this weekend with a finale hosted by Ben Affleck, musical performance by Kanye West (will he break out "I Am God"?). With the closing of yet another season of the show comes the speculation about who will not return in the fall.
We don't know a lot of answers to that question yet, but here's what we do know: Bill Hader, aka "Stefon" is leaving. In an interview with the New York Times, he explained: "It was a hard decision, but it has to happen at some point. It got to a point where I said, 'Maybe it's just time to go."
SNL Executive Producer Lorne Michaels lamented the departure of Hader by remembering how he first reminded him of a young Dan Aykroyd. "In terms of intelligence and talent, he was in that same tradition," Michaels told the Times. "He was so completely committed to the art of it and enough a student of it that there's something strikingly original. He didn't explode onto the air, but gradually he found his voice, and that became a huge thing."
Hader has recently become a more regular face in feature films, voicing a character in the upcoming DreamWorks animated film Turbo, as well romantic comedy The To Do List. His likely next career move is to make more of such appearances as well as getting some of his screenplays turned into film. With his departure goes Stefon and impersonations of people like James Carville and Julian Assange.
So who else is leaving SNL?
Seth Meyers – He will stay with SNL midway through season 39 before leaving behind the "Weekend Update" desk to replace former cast-mate Jimmy Fallon over at NBC's Late Night.
Fred Armisen – This one is not confirmed, but you can bet on it. It's been a long time coming for the Portlandia creator/writer/star, who is already a household name in the comedy world. As the second-longest tenured cast member right now, there's a much greater chance that he'll leave than stay for season 39.
Jason Sudeikis – Another unconfirmed one, but this one's been even longer in the making. Most SNL viewers will easily recall his "pissy face" made during the season 37 finale, in which he shrunk off to the side of the stage as Kristen Wiig got her epic send-off to the tune of Mick Jagger singing "Ruby Tuesday." For several days, the entertainment world needlessly speculated on what it could have meant — He was sad to see her go? He wanted his own epic send-off? No one was giving him attention for his potential departure? But the fledgling feature film star can only go up from here in Hollywood, and it's likely he'll bolt after this season… without any Jagger-and-Arcade-Fire-backed farewells.
With those moves, Bobby Moynihan, Taran Killam, and Kenan Thompson will become the senior male leads on SNL. And featured player Kate McKinnon (a.k.a. the best Ellen DeGeneres impression on earth) will most assuredly move into a repertory role.
Only one question remains: Who has the chops to succeed Meyers in the "Weekend Update" anchor chair?
— —
>> Follow Andrew Kirell (@AndrewKirell) on Twitter
Have a tip we should know? tips@mediaite.com