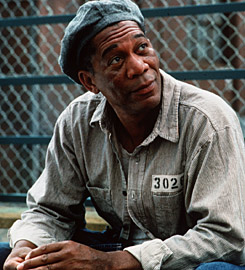 The CBS Evening News is making a major change – and it involves Morgan Freeman.
The iconic actor, who is generating Oscar buzz for his portrayal of Nelson Mandela in Invictus will be the new "voice" of the program. A celebrity as the voiceover guy – three is now officially a trend.
The Associated Press broke the story this afternoon. Freeman will replace Walter Cronkite, who had been the voice of the program since Katie Couric took over as anchor. He passed away in July.
When Diane Sawyer took over recently as anchor of ABC's World News last month, she got a new voiceover guy as well – Mike Rowe of Dirty Jobs fame.
And Oscar-winner Michael Douglas took over as the voice of NBC Nightly News in December 2007.
Why are celebrities taking over doing the voiceovers on these network evening newscasts? Who knows. Buzz maybe? Either way, let's vote on our favorite. First, some background:
Freeman:
• Narrator of A March of Penguins, War of the Worlds and Visa commercials, among many others.
• Starred in, arguably, the best movie of all time.
Rowe:
• Narrator of American Chopper, Deadliest Catch and Ford commercials, among many others.
Douglas:
• Narrator of 2000 Best Documentary Oscar winner One Day In September.
Who's your favorite "voice"? Vote here, and leave your pick for who should be the next choice of voiceover guy (or girl, obviously) in the comments:


—–
» Follow Steve Krakauer on Twitter
Have a tip we should know? tips@mediaite.com