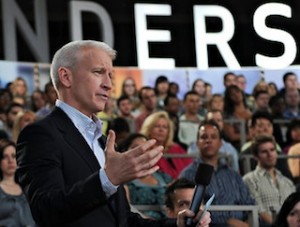 This week Anderson Cooper's daytime talk show launches with great fanfare. The media coverage ranged from breathless comparisons to Edward R. Murrow to "one of the great hopes to inherit the audience Ms. Winfrey leaves behind," as was reported by Bill Carter today for the NY Times. Cooper is an outstanding journalist, and has been lauded for his terrific reporting from areas of conflict on this site. But the challenge he faces in transitioning to a successful daytime host requires a departure from his dispassionate and stoic demeanor, to one that viewers can connect with. And I just don't see that happening.
Let me say at the outset that I am a fan of Cooper's CNN show AC 360. He has figured out how to deftly balance the CNN brand of "non-partisanship" with occasional tough and news making interviews. He travels the world to bring us the most important stories of the day while remaining likeable and accessible on camera. Despite AC 360's sometimes mediocre ratings, the show is an important one for CNN and a must watch for those looking for a night time alternative to the often partisan screeds on MSNBC and Fox.
So then why might that "likeable" persona fail to resonate in daytime? First and foremost because it still seems Anderson will be unwilling to let us take a glimpse into who he really is. And even if he does I am not sure the side of him that he shares will be compelling enough to make it "must watch TV." Sure he can charmingly banter with Kelly Ripa when filling in for Regis but holding your own on a daily afternoon talk show requires more than just being a good host. The audience will need to see into his soul and identify with him. From Oprah to Ellen to Dr. Phil, we get to know their struggles, their families, and their sometimes controversial opinions on issues affecting every day Americans. Will Anderson be willing to take controversial stands? Will he lead the way Oprah or Ellen have on different issues? I doubt it.
Yes Anderson has spoken about growing up with his famous mother and about the suicide of his brother But as a viewer, I still can't say that most Americans know Anderson in the way that we "know" other daytime talk show hosts and while he may show us a side on this show that we have not seen of him, I am not expecting it will be introspective enough or frankly compelling enough, to make the show work during the day.
By all accounts, Cooper is a terrific guy; he often regarded as remarkably down-to-earth for the face and name of "the most trusted name in news." As a fan of his work and his nighttime show I hope that I am proven wrong.
Have a tip we should know? tips@mediaite.com