Why Brian Stelter's Claim About MSNBC and Fox Is Absurd
Rothman: Why Brian Stelter's Claim About MSNBC and Fox Is Absurd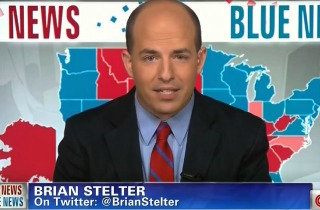 A host of disbelieving eyebrows perked last Thursday when CNN's Reliable Sources host Brian Stelter joined The Lead's Jake Tapper to weigh in on conservative media's ongoing embarrassment relating to Nevada rancher Cliven Bundy and his self-discrediting racist comments. Amid a media pile-on aimed at shaming a series of Fox hosts for displaying excessive credulity about the righteousness of Bundy's cause, Stelter took his criticism of the network to an undeserved level.
"I can't think of any parallel to this case," Stelter insisted. "I can't think of MSNBC taking an equivalent story on the left and spending weeks covering it the way Fox News has."
Media watchers rightfully pounced on this inexplicable statement. Stelter was bombarded by incredulous viewers who insisted that MSNBC has been spending the better part of a fiscal quarter speculating — not reporting — on New Jersey Gov. Chris Christie's involvement in the scandal surrounding the closure of two lanes of the George Washington Bridge last fall. In fact, the speculation continues even today.
Stelter shot back at the criticism with a relevant counterargument. Noting that he used the words "equivalent story" intentionally, the CNN media critic insisted that there is no parallel between a cable network elevating the obscure grievance of a local rancher against the Bureau of Land Management and a cable network covering an already significant story about alleged government malfeasance which has the potential to ensnare a prospective presidential candidate:
@johnnydollar01 @NoahCRothman key words: "equivalent story." an obscure dispute between man & government. Bridgegate is not equivalent.

— Brian Stelter (@brianstelter) April 24, 2014
But "Bridgegate" was not the only example of MSNBC's penchant for obsessive coverage that critics hurled at Stelter. And on his own show this weekend, he did not address his comments. Instead, he performed what he probably believed was a clinical dissection of the facts of the Bundy story, citing MSNBC host Chris Hayes as an example of the left "trying to put it in context" and how that context was manipulated by Fox News personalities to fit their preferred "narrative." Watch that below:
Critics of the Stelter comments have noted that MSNBC has their own preferred narratives. Many cited the fact that the network devoted an disproportionate amount of time covering the Occupy Wall Street protests relative to their significance because so many, including Democratic lawmakers, saw the protests as the electoral equivalent of the left's tea party. Another example: In 2011, The Hollywood Reporter published a rather thorough examination of the network's "obsession" with former Alaska Gov. Sarah Palin crafted a convincing argument that the network elevated her beyond her relative significance to national politics.
But all of these cases would, in some way, meet with the caveats Stelter originally outlined in the above tweet: None of these stories amount to an obscure figure being virtually created by a cable news network in order to advance a preferred narrative.
RELATED: CNN's Stelter: Way Fox Handled Bundy Story Has No Equivalent on MSNBC
The strongest rebuttal to Stelter's remark is his curious omission of how MSNBC created a national craze out of the shooting death of Trayvon Martin. The network's hosts shifted from news anchors to activists in March 2012 in order to generate maximum attention for the story. Almost singlehandedly, the network's coverage prompted public officials ranging from prosecutors, to members of Congress, to even the President of the United States to weigh in on an apparent crime that had not even yet resulted in an arrest, let alone the filing of criminal charge.
For those that have forgotten, let's review. Martin was shot and killed by George Zimmerman on February 26. On March 8, the Associated Press and CBS News ran brief, factual stories around the event. NBC's The Grio — an African-American themed news blog — also picked up on the story. What was then still an obscure local crime story began to get national attention from MSNBC host Al Sharpton. By March 10, the MSNBC host traveled to Florida where he headlined a rally against the state's Stand your Ground laws.
Martin's death became a regular feature on Sharpton's program. On March 13, the MSNBC host invited the Martin family and their attorney, Benjamin Crump, on his show to make the case against what they perceived was the injustice of Zimmerman's continued freedom. On that same day, Sharpton's National Action Networks released a statement demanding an investigation into the case and reports that Zimmerman used "racial language" before shooting Martin.
By March 19, the story had jumped from MSNBC to the networks, but with one crucial difference: the focus of the networks was on the law and the flimsy evidence thus far marshaled against Zimmerman. MSNBC's coverage was, on the other hand, almost entirely focused on supposed injustice of the case.
Sharpton appeared on MSNBC's Morning Joef where he alleged that the coroners who left Martin's body in an examination room for a period of time had treated him "like he was nothing." "I don't believe in drive-by activism," Sharpton assured Martin's grieving father on a March 19 segment. "We will be there until it's resolved." He repeated the threat to escalate his campaign of civil disobedience until Zimmerman was arrested at another rally in Florida on March 30.
On March 20, MSNBC host Lawrence O'Donnell alleged a "police cover-up" when the 911 audio of the event was released. The following day, MSNBC contributor Goldie Taylor and SiriusXM host Mark Thompson appeared on his program wearing hooded sweatshirts as a display of solidarity with Martin.
Rep. Bobby Rush (D-IL), too, took to the floor of the U.S. House of Representatives in a hoodie. Rep. John Lewis (D-GA) appeared on MSNBC where he directly compared Martin's killing to the 1955 lynching of Emmitt Till. On March 23, even President Barack Obama weighed in, saying that his son, if he had one, would look like Martin – an implicit acknowledgement that the race of the victim played a role in his death.
MSNBC had successfully elevated an obscure local grievance to national prominence. Stelter's failure to acknowledge the parallels between this case and Fox's elevation of Bundy are even less excusable when one searches though the archives and finds that MSNBC's blurring of the lines between hosts and activists became its own story. Though, Stelter was not among MSNBC's critics at the time.
"In slain teenager's case, a long route to national attention," read his headline of a March 25 story in the New York Times. He noted that the relatively slow speed with which the story traveled exposed critical failures of both the traditional media in the internet age and the racial makeup of journalistic professionals. "The racial and ethnic makeup of newsrooms, where minorities tend to be underrepresented relative to the general population, has long been a source of tension for the news industry," Stelter wrote.
On April 11, Zimmerman was finally charged with a crime that the state ultimately could not prove beyond a reasonable doubt.
Stelter's criticism of Fox was never unwarranted, but his attempt to justify the misguided claim that MSNBC had never erred in a similar fashion was clearly and profoundly inaccurate.
[Photo via screengrab]
— —
>> Follow Noah Rothman (@NoahCRothman) on Twitter
Have a tip we should know? tips@mediaite.com