Here's Why Business Insider's Maria Bartiromo 'Exclusive' Is More Spin Than Scoop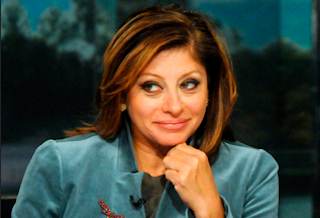 Business Insider has an "exclusive" report with the headline "Here's Why Maria Bartiromo Is Leaving CNBC For FOX Business" that is currently burning up the site's homepage with a publicly-displayed 81,417 views (as of 8pm ET). But the real title should be "Here's Why Maria Bartiromo Wants You To Believe She's Leaving CNBC for FOX Business."
The piece, which features a co-byline of finance reporter Julia La Roche and editor-in-chief Henry Blodget, reads like the definitive inside scoop on why Bartiromo decided to make her big move, but according to a senior tv news executive who spoke to Mediaite, it doesn't tell the whole story.
Business Insider cites a "source familiar with Bartiromo's thinking," who we are going to have to assume is not Bartiromo or her publicist, as listing three reasons for her departure from CNBC: "Money," "visibility," and "the opportunity to, once again, help build something."
As for money, the piece says Fox made a "big offer" and while CNBC "increased its own offer" they wouldn't quite match Fox. This implies some sort of bidding war for Bartiromo, when our source tells us that CNBC was simply not willing to pay the anchor anywhere near what Fox was willing to pay and generally was not that concerned about letting her go.
In terms of visibility, Business Insider notes that Fox Business consistently trails CNBC in ratings, which makes the move seem a bit more like a step in the wrong direction for Bartiromo (albeit a potential coup for Fox). As for the promised Sunday program on Fox News proper, we will have to wait until her contract is finalized to see how that pans out.
Finally, the "opportunity to build something" seems like a bit of a stretch when describing the move from one business cable news channel to another. Its not like Fox Business just launched. Nor is it remotely on the level of say Nate Silver's move from writing a blog on The New York Times to launching a full-scale website for ESPN or Katie Couric's potentially game-changing move from ABC to Yahoo.
Business Insider's report is littered with hopeful spins on Bartiromo's situation along with overly gushing assessments of her career. She's "affectionately known as the 'Money Honey.'" She's one of CNBC's "earliest and biggest stars." And, CNBC may "have to make some changes in the wake of Bartiromo's departure."
On that issue, our source tells us that CNBC is not going to have to make any changes at all. While Business Insider claims that the network may have trouble booking big guests without Bartiromo, we are told CNBC is "not at all" concerned about their booking abilities in a post Bartiromo world. To their credit, La Roche and Blodget do quote another CNBC insider as saying, "I have a feeling her prowess was always a little overrated in that department."
The kicker comes in an anonymously-sourced quote about Bartiromo's future at Fox Business from someone "who has worked with her" that reads like a parody of flattery:
"She is a bulldog. She just works really, really hard. She's an impressive person. She's just driven. She's smart. She's energetic…She fiercely guards her territory…She's tough in a good way… She's just a hard working, driven person and she's competitive. I think that's going to be interesting to see what they're able to do with that."
Wow. All of those things may be true about Bartiromo, but ultimately the quote takes an already excessively laudatory piece, positioned as a reporting exclusive, and ensures its place in the spinners hall of shame.
[photo via NBCUMV]
— —
>> Follow Matt Wilstein (@TheMattWilstein) on Twitter
Have a tip we should know? [email protected]