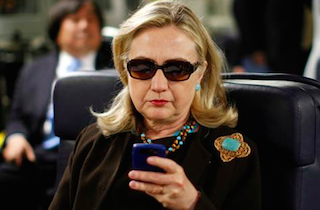 During her much-watched and heavily-covered press conference on Tuesday afternoon, Hillary Clinton said, "When I got to work as Secretary of State, I opted for convenience to use my personal email account, which was allowed by the State Department, because I thought it would be easier to carry just one device for my work and for my personal emails instead of two."
At first glance, especially to an audience of reporters used to managing multiple email accounts on one mobile device, this statement seemed either technologically ignorant or willfully obtuse.
Fox News' Eric Bolling accused her of lying saying, "Any tenth grader can set up multiple email accounts on a single hand-held device."
Former Arkansas governor and potential 2016 Republican presidential candidate Mike Huckbee said in an interview, "Anyone with an iPhone who paid their bill last month should know that you can have one device and multiple accounts that will come to that device," calling her suggestion otherwise "ludicrous."
Listen to audio below, via The Hugh Hewitt Show:
But what these conservative critics and others don't realize is that things weren't quite so simple back in 2009 when Clinton entered the State Department. Mashable's Pete Pachal notes that "even back then, most smartphones could accommodate more than one email account, so Clinton's excuse for not wanting two devices for two email addresses may not ring true to many people." But, he adds, when it come to security, that was not necessarily the case.
Pachal writes:
The reason many people needed to carry around multiple devices is because work and personal data co-mingling on the same device is frowned upon by most IT departments. There's a real concern of attack vectors on the personal side (where strict adherence to best security practices is rare), but there's also the concern that IT would suddenly have dominion over all your personal data, with the ability to read it, secure it and even wipe it at will.

Most people don't want that, and honestly, your IT department doesn't either — they don't want to waste their time policing your downloading of games and looking at porn on your own time. Hence the two-device situation.

It's only in recent years that mobile devices have addressed the multiple-device issue with more sophisticated solutions.
Clinton's device of choice during her time as secretary of state, the Blackberry, did not actually adopt a system to carry multiple email addresses in s secure fashion until 2013, after she had left office. Obama's former speechwriter Jon Favreau acknowledged this delay in a series of tweets Tuesday:
@jpodhoretz you couldn't with WH accounts (and I guess State too) until maybe 2011-12

— Jon Favreau (@jonfavs) March 10, 2015
@jpodhoretz nope – it was such a pain. eventually there was an app for your iPhone that allowed you to access your WH emails

— Jon Favreau (@jonfavs) March 10, 2015
@jaketapper @NolteNC that was our experience in the WH, yes. We all carried blackberries that were for WH email only – no gmail access

— Jon Favreau (@jonfavs) March 10, 2015
"To fulfill the criteria that Clinton demanded — secure email that's not sitting on a cloud service, plus a single-BlackBerry solution — she had just one option: Set up her own email server," Pachal concludes in his piece.
Of course, as we now know, Clinton's reluctance to carry multiple phones apparently evaporated after she left State. In an interview with Re/code's Kara Swisher at the Silicon Valley Conference for Women just two weeks ago, she said she carries around both an iPhone and a Blackberry along with additional devices at times, though it was unclear if it is security concerns that drives her to do so.
"I don't throw anything away, I'm like two steps short of a hoarder," Clinton said. "So I have, you know, an iPad, a mini iPad, an iPhone and Blackberry."
Watch video below, via ABC News:

World News Videos | US News Videos
[Photo via NBC News]
— —
>> Follow Matt Wilstein (@TheMattWilstein) on Twitter
Have a tip we should know? tips@mediaite.com