Why Did Andrew Cuomo Decline Invites from Morning Joe and Daily Show on His Book Tour?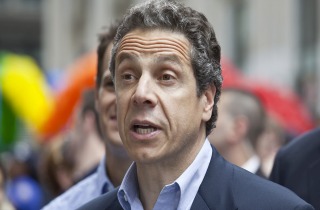 Democratic New York Gov. Andrew Cuomo released a memoir this week and, like all authors, he's spending some time to promote it. But unlike all authors, the New York Times reported Thursday that Cuomo turned down guest invites from Comedy Central's The Daily Show and MSNBC's Morning Joe, two spots that most authors would pounce on faster than you can say "nepotism."
What happened?

So far, Cuomo's national media tour has been limited to a short appearance on The Late Show with David Letterman, where he read a comical countdown, and an interview with the Wall Street Journal.
That's a short, relatively easy tour for someone trying to hawk a book.
Cuomo's aversion to Morning Joe (where a source confirms to Mediaite that Cuomo did indeed decline an invite) and The Daily Show may be justified, though.
Both programs, popular as they may be among political and media professionals, were highly critical over the summer of Cuomo's questionable decision to dismantle an ethics commission he created once it started probing into his office.
"You know that's fucking ridiculous, right?" Daily Show host Jon Stewart said of the matter back in July.
A few days prior, Joe Scarborough on Morning Joe said Cuomo's decision to dismantle the commission was "deeply troubling." He also said that Cuomo — who tried justifying his move by stating that it wouldn't be appropriate for his own panel to investigate him — "may be deluding" himself.
According to the Times, Cuomo also declined an interview with a local TV news station in Rochester, N.Y., when the reporter wouldn't commit to only asking question related to Cuomo's book. Perhaps Morning Joe and The Daily Show had similar objections.
We've reached out to the governor's press office by phone for an answer. After hearing us out, they said they wanted a request submitted by email, so we obliged. Still haven't heard anything back.
[Photo via Shutterstock.com]
— —
>> Follow Eddie Scarry (@eScarry) on Twitter
Have a tip we should know? tips@mediaite.com