Why Did Cenk Uygur Tell Fox's Dana Perino to 'Get the F*ck Out of the Country'?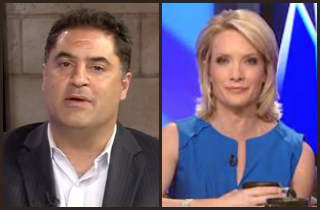 On The Young Turks last night, Cenk Uygur had a pretty clear message for Fox News host and former Bush White House spokesperson Dana Perino: GTFO.
Why? Well, last week Perino said on The Five that she is "tired" of atheist activists demanding that emblems of Christian ideology be removed from public policy — i.e., the separation of church and state. "They don't have to live here," Perino said. "If you don't believe then why do you care? It's just, like, some guy's name."
"That's classy," Uygur said in response, "Well, I'm tired of you. You guys are, like, constantly, 'Believe in my sky God! Believe in him! Believe in him!' Well, I don't believe in him. So, why don't you leave the country?"
He then read aloud the "Establishment Clause" of the First Amendment to the United States Constitution, which states: "Congress shall make no law respecting an establishment of religion."
"You're wrong, I'm right," the host concluded. "Get the fuck out of the country!"
During another part of the discussion, Uygur and Ana Kasparian railed against Bob Beckel, who agreed with his co-host Perino's "tired" statement.
"He's, like, the biggest meathead," Uygur said of Beckel, who has worked with noted liberals like Walter Mondale. "He's not remotely liberal. He's a Fox News liberal, which is an idiot who's supposed to bob his head and go, 'Oh, yeah, you're right. Everything you say is right. Oh, liberals suck, atheists suck. Yeah, they should all leave the country. Only Fox News should stay in the country.'"
Watch the clip below, via The Young Turks:
[h/t
Raw Story
]
[
pic via screengrab
]
— —
>> Follow Andrew Kirell (@AndrewKirell) on Twitter
Have a tip we should know? tips@mediaite.com