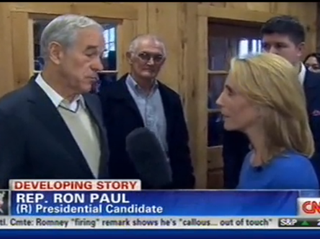 Earlier today, CNN's Dana Bash had a difficult exchange with Rep. Ron Paul interrupted by his campaign chairman, who told Bash her questions were "junky" and directed his candidate to Fox News' cameras. It was an attention-grabbing clip, filmed both by third parties and the station there, but was ultimately left on the cutting room floor once it aired on John King USA.
The exchange became heated when Bash asked about Rep. Paul's ability to connect with voters– namely, about one woman who lamented not being able to meet Rep. Paul and could not vote for him without having face time. Rep. Paul blamed the media for dividing the woman and other voters from him and his workers, and, suddenly, his campaign chairman jumps in to tell Bash she was asking "junky questions" and leads the candidate away. Bash's full interview with Rep. Paul aired on John King USA tonight, but ends abruptly as Rep. Paul says "it's the media," and neither shows nor mentions the apparent outrage of team Paul.
RELATED: Ron Paul's Campaign Chairman Angrily Cuts Off Interview With CNN's Dana Bash
Bash's question about the encounter with a voter– which does make the CNN broadcast– doesn't appear to be particularly hostile or offensive, not enough to prompt Rep. Paul's team to respond as they did. This wouldn't be the first time that Bash was treated aggressively in a situation in which she was merely asking valid questions– Anthony Weiner famously shouted at her when she asked for clear answered to his Twitter scandal, too. Nor has CNN shied away from showing campaigns roughing up other reporters, as when Don Lemon reported that the Bachmann campaign allegedly shoved him into a golf cart. Not to mention that the optics are terrible for Team Paul– Rep. Paul's campaign chairman Jesse Benton appears particularly intimidating in size and demeanor next to Bash, who looks up and asks earnestly what she did wrong while Rep. Paul sticks his finger out at her.
In short, there was absolutely nothing for CNN to lose in showing the clip; on the contrary, it appears to be another instance of Bash trying to get the news and asking the hard questions, and meeting the fearful resistance with her head held high. It's good reporting. And CNN appears to believe so, too– if producers would have considered the question unfair, they wouldn't have aired it. More importantly, the event was recorded on film by other sources; it would have inevitably surfaced. Why not get the news straight from the horse's mouth, so to speak? What motive would there be to deny that Bash and her team had a run-in with the Paul team over a completely innocuous question that annoyed the campaign for reasons they refused to explain?
Below is CNN's broadcast report, followed by footage taken at the event by a third party– and leave any speculation as to why this was deemed unusable material below (first video via CNN, second via Evan Kenney):

Have a tip we should know? tips@mediaite.com