Why Did Geraldo Rivera Get Away With Calling Casey Anthony A 'Self-Involved Slut'?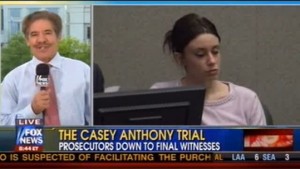 Geraldo Rivera, not one for self-censorship, was quite blunt about his opinion regarding Casey Anthony, the Florida woman suspected of killing her daughter, Caylee.
During a Fox News report outside the Orlando courthouse where the headline-making Anthony case has been unfolding for some time now, Rivera noted that, in the weeks following her daughter's death, Anthony had a tattoo done featuring the phrase "Bella Vita" ("The Beautiful Life"):
More evidence… I think it will end the prosecution case, Brian, with a bang, so to speak, to show that this was a selfish, narcissistic, self-involved slut who wanted to kill her child to have "la bella vita."
Rivera then helpfully translated the phrase into Spanish. Have a look, via Fox News:
Now, the question at play here, beyond whether it's ever appropriate for a news anchor to refer to a woman as a slut during a report (Which is particularly glaring in this case since it appears that Rivera is passing judgment on Anthony based on…. her choice of tattoo? Is that really Rivera's call?), is, you know: How does this compare to MSNBC's Ed Schultz's recent use of the word "slut"? Shultz, you'll recall, was briefly suspended from his nightly show after referring to conservative radio host Laura Ingraham as a "right-wing slut" and then as a "talk slut" during his own radio show.
Rivera's segment aired on the 14th of this month with nary a peep. What message does this send? That it's ok to call a woman a slut if some feel she "deserves" it? If she's suspected to be a bad person, is it ok to label her with a gender-specific slur? Is it permissible to publicly pass judgment on a woman based on her sexual history during the context of a serious news report? No, no and no. This sets a horrible precedent and presents a woefully ugly image.
Rivera's commentary was out of line. While Anthony's actions and, to a certain degree, her behavior following her child's death are certainly fair game for analysis and criticism, her private, personal sex life (or the perception of what her actions say about her sex life) isn't on trial here, and calling her names based on her decision to have a tattoo done seems… juvenile? Unprofessional? Pointless?
Rivera's audience can come to their own conclusions regarding what Anthony's choices say about her character and her state of mind; it isn't Rivera's role as a reporter, in this particular instance, to feed viewers his own bias and his personal judgment calls about this woman. That only serves to damage his credibility as someone who is here to give us information and not, rather, a brief diatribe on morality as seen by one Geraldo Rivera.
Furthermore, Rivera's statement has specific misogynist implications that have no place in a news report, or even in an op-ed piece. It isn't about censorship; this is about behaving in a professional manner that does not leave the national discourse wallowing somewhere in the muck. This is about realizing that words have meaning, that slurs carry judgment calls, and that using inappropriate and potentially harmful language isn't the most enlightened course of action to take when addressing your audience.
It is my hope that Rivera takes it upon himself to apologize to his viewership for using hateful language and for tarnishing his own image and that of his network. Not only was he offensive, he was wildly unprofessional. This is why Schultz was appropriately chastised for his comment, and it's why Rivera should, at the very least, apologize directly to his viewers for using this unnecessary, judgmental and sexist word.
Have a tip we should know? [email protected]