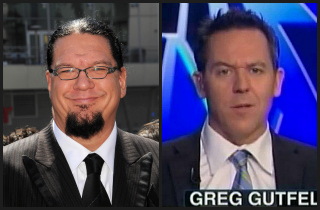 If you're unfamiliar with Penn Jillette's non-fiction writing career, some of his best works include Every Day is an Atheist Holiday! and God, No! With those titles in mind, it should come as no surprise that the libertarian illusionist, comedian, and actor took issue with a recent Fox News segment that decried American atheists' objections to the use of "One nation under God" in the Pledge of Allegiance.
The Five segment in question happened the week before last. While discussing an atheist group's attempts to have the words "under God" removed from the pledge, co-host Dana Perino suggested that if those non-believers don't like it, they should just leave the United States.
On a recent edition of his weekly podcast, Jillette not only took umbrage at Perino's comments, but also with his good friend (and self-described "agnostic atheist") Greg Gutfeld's conspicuous silence during his Five co-host's railing against non-believers.
Calling Gutfeld a "giant pussy," Jillette mocked the Red Eye host for "waiting for the check to cash" while remaining silent during his Five co-host's tirade. As Jillette lamented, Gutfeld's skepticism towards religion is much more apparent on his late-night Fox show Red Eye while, on Fox's primetime talk show The Five, he is quieter when outnumbered by his co-hosts.
-RELATED: Why Did Cenk Uygur Tell Fox's Dana Perino to 'Get the F*ck Out of the Country'?
Despite the harsh ribbing, Jillette ultimately concluded that while he's still a "pussy," his friend Gutfeld actually did non-believers a favor by showing America just how tolerant and kind they can be to their religious friends, as opposed to the rantings of Perino.
Plug in some headphones and listen to the full segment below (VERY, VERY NSFW…unless your workplace is awesome), via Penn's Sunday School:
[h/t @CT_IKE]
[featured image via Shutterstock/Fox News]
— —
>> Follow Andrew Kirell (@AndrewKirell) on Twitter
Have a tip we should know? tips@mediaite.com