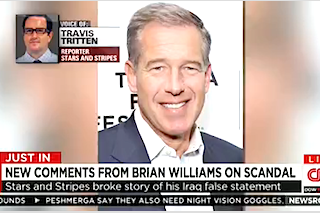 Five days after the military newspaper Stars and Stripes helped break the news about Brian Williams' exaggerated Iraq helicopter story, the website has posted the full audio and text of an interview they conducted with the NBC Nightly News anchor on Wednesday, February 4. What took them so long?
Before the new post went up on Monday afternoon, the paper had only included a handful of unique quotes from Williams, notably this statement in a story published on the same day the interview took place: "I would not have chosen to make this mistake. I don't know what screwed up in my mind that caused me to conflate one aircraft with another."
At the time, it seemed that Stars and Stripes had only gotten that short statement from the anchor, but now it turns out they had conducted a much longer interview with him, including the assertion that the helicopter he had been riding in was "had been fired upon." This statement — regardless of whether it was an RPG or other lightly weaponry — has been disputed by the pilot-in-command of that chopper.
On CNN this afternoon, the Stars and Stripes reporter who conducted the interview, Travis Tritten, gave an odd explanation for why they decided to wait nearly a week to publish the longer interview with Williams.
"The reason we decided to publish it now is because Williams has, I guess, backed out of this appearance on The Late Show with David Letterman," Tritten said, citing the decision announced Sunday. "We felt there was a lot of interest out there to hear him, in his own words, really address these questions and hear his responses, unfiltered, so we've decided to put up the full audio, much of which was never published, so everybody can listen for themselves and judge."
"We are five days after and Williams has not come forward and answered questions," Tritten added when CNN's Brooke Baldwin once again asked why his site didn't just post the audio last week. "He has made statements on his own but he hasn't sat and answered questions about it."
But the question remains: Why would Stars and Stripes want to hand this scoop to David Letterman when they already had it sitting in their laps? With the new developments to the story that have occurred since Wednesday, if anything, an interview that would have been a big bombshell last week now just feels like old news.
Watch video below, via CNN:
[Photo via screengrab]
— —
>> Follow Matt Wilstein (@TheMattWilstein) on Twitter
Have a tip we should know? tips@mediaite.com