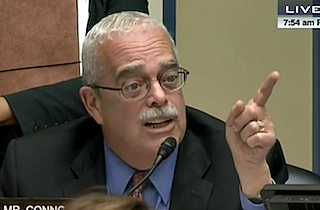 Representative Gerald Connolly (D-VA) parodied the "witch hunt"-like nature of House Oversight Committee Chairman Darrell Issa's ongoing, mutlipronged investigation into the Internal Revenue Service, asking IRS official Sarah Hall Ingram if she were a witch or had consorted with the devil.
Ingram is the Affordable Care Act Office Director. The House Oversight Committee is investigating whether Ingram shared tax data with the White House, outside her narrow legal parameters, to assist with legal challenges against Obamacare. She denies the charge.
"Let's get things out of the way," Connolly said at the start of his congressional questioning. "Have you ever read The Crucible by Arthur Miller? What is it about?"
"Well, I'm from New England, so I'm familiar with the original story," Ingram said. "The Salem witch trials."
"You're under oath; have you been consorting with the devil?" Connolly asked, drawing laughter. Connolly also asked if Ingram could fly, or had been trying to corrupt the youth of Salem; she pled not guilty.
He then turned to her record under the George W Bush administration: "You received an award in the Bush administration for excellence in public service, the highest award for anyone in the IRS, is that correct? Did the devil have anything to do with that award?"
"I was not part of either the nomination process or the awarding," Ingram said. (Not a no!)
"We now know that Bush administration manufactured evidence about weapons of mass destruction to justify the invasion in Iraq," Connolly said. "Were you involved in that? Because you received an award from President Bush, so there is a connection."
"No, sir," Ingram replied.
"All right," Connolly said. "If that's your testimony…"
Watch the full clip below, via C-SPAN 3:
[h/t TP]
[Image via screengrab]
——
>> Follow Evan McMurry (@evanmcmurry) on Twitter
Have a tip we should know? tips@mediaite.com