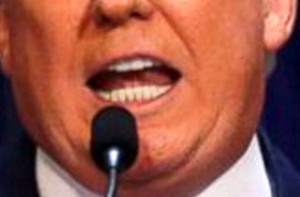 Donald Trump was scheduled to go on a TV appearance bonanza Tuesday morning, but opted to go for audio interviews at the last minute.
According to CNN Money, Trump was set to appear on morning programs on NBC, ABC, CBS, Fox News, and MSNBC, but cited technical difficulties, and insisted that he be allowed to call in instead.
CNN anchor says Trump was overheard, "I don't like the way I look, so just tell them it's a technical issue." Why he did TV phoners this AM.

— Philip Rucker (@PhilipRucker) March 8, 2016
CNN Money writes:
Three network sources who insisted on anonymity said they thought the "technical issues" were an "excuse."

"He didn't like the shot," said one of the people who heard Trump voice his objection on camera. "But he didn't realize that his microphone was on for everyone to hear."

When guests appear on several shows back-to-back, the camera shot is often shared between them, so the guest can be seen and heard in multiple control rooms.

The source said they heard Trump say, "I don't like the way I look. Just tell them there's technical issues."
All the shows complied, except for CBS This Morning, whose executive producer Chris Licht tweeted:
Unfortunately @realDonaldTrump suddenly unable to join @CBSThisMorning via camera- we won't take on the phone- so we'll wait for next time!

— Chris Licht (@ChrisLicht) March 8, 2016
Later on Tuesday, CNN's Ashleigh Banfield went out of her way to explain to two guests why Trump's comments are audio only.
"I want to run his sound byte," Banfield said. "It is on the phone because he cancelled all of his on-camera appearances. He was heard by a technician saying, 'I don't like the way I look so tell them there is a technical issue,' and he carried on his interviews by phone. That's why we are hearing it by phone."
Have a tip we should know? tips@mediaite.com