When it comes to covering police issues, Fox News can be considered very pro-cop, so it was rather striking this morning when, of all three major cable news networks, Fox devoted the least amount of live coverage once the memorial began for Officer Rafael Ramos.
Now, before going any further, we should make several things clear. Firstly, Fox News did cover the memorial multiple times over the course of the morning. Fox & Friends covered it in several segments and they had live shots outside the church where the service was being held. There were a few live reports scattered throughout Fox's Cost of Freedom business block, and right after that two-hour block they did cover what happened at the memorial service in detail.
Fox also made live streams of the memorial service available online for people to watch the speeches by Vice President Joe Biden, Mayor Bill de Blasio, Governor Andrew Cuomo, and NYPD Commissioner Bill Bratton, but that wouldn't exactly come close to the kind of reach it would have for Fox to cover the service live.
But both CNN and MSNBC devoted more live, on-air coverage to the memorial service than Fox did. It was the only thing that CNN was covering for several hours, and that network carried the entire memorial service live. MSNBC only carried Biden's speech live, but they also featured various live shots from reporters and interviews talking about the memorial service and the issues raised by it.
Fox, again, covered the memorial service before it started but did not cover any of it live. Its regular programming went on as usual, interrupted briefly by various short updates.
In fact, just to give you some idea of the disparity, here's a screencap of what was going on on CNN, MSNBC, and Fox News at the same time: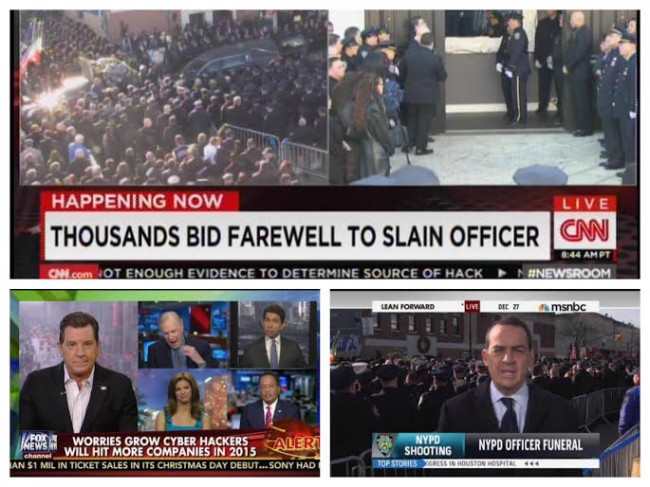 And yet, somewhat ironically, Fox employee Todd Starnes tweeted this complaint out:
The MSM spent weeks covering the riots.You'd think they could spare a few hours to cover a police officer's funeral. #PoliceLivesMatter

— toddstarnes (@toddstarnes) December 27, 2014
We have reached out to Fox News and will update this post if they have comment.
[image via screengrabs]
— —
Follow Josh Feldman on Twitter: @feldmaniac
Have a tip we should know? tips@mediaite.com
Josh Feldman - Senior Editor