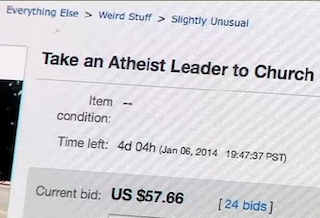 Eve Brannon of South Carolina's Upstate Atheists group just wanted to raise money for charity by offering up her time to any churchgoer who wanted to show her what religion is all about. But now she claims eBay made that process exceedingly difficult for her, removing her "Take an Atheist Leader to Church" post repeatedly without proper explanation.
Brannon re-posted the auction page two or three times after eBay sent her notices that it had been taken down, once because it specified which charity the money would go to and again because it was listed under the wrong category. At one point, the original link started redirecting to the page for a Christian rock CD.
"All that they've said is that it's an accident, but it happened three times so it's not very believable," Brannon told TheBlaze. "We were raising money to provide heat and water to a homeless community."
Before it was taken down, the ad read:
Your bid is for me and my 4-year-old daughter. She must be able to stay with me at all times. We will attend any church on a Sunday morning. We will listen to the sermon and I agree to be acknowledged as a guest. I will speak to members of the congregation if you wish and what led me to the path I chose. I'm fine with speaking publicly, answering questions, or simply sitting in the crowd. I will NOT question or refute anyone's beliefs. I will be respectful of all members of the church.
In a statement, a spokesperson for eBay explained that it was "removed in error":
eBay has outlined clear polices for our sellers and works vigilantly to ensure responsible use of our marketplace. In situations when unusual or high-profile listings come to our attention, we review them to ensure they comply with policies and work with sellers to list them appropriately. When a listing is erroneously removed in this process, we work just as hard to make amends and restore the listing in a timely manner.

In this case, the listing was removed in error. We apologize for the inconvenience and have offered assistance to the seller to relist.
Bids for Brannon's time reached $255 before it was taken down the last time.
Watch a local news report on Brannon's campaign, via Fox Carolina:
[h/t TheBlaze]
[photo via screengrab]
— —
>> Follow Matt Wilstein (@TheMattWilstein) on Twitter
Have a tip we should know? tips@mediaite.com