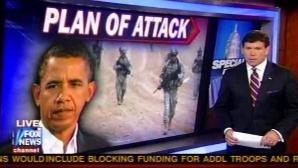 We've written a lot about Fox News' huge ratings this year, especially recently.
In November, FNC was still on top of the cable news world by a mile, and one important statistic revealed something else – while most cable news programs, including many on Fox News as well, are seeing year-to-year declines after a huge 2008, FNC's two big news programs are not down.
Special Report with Bret Baier at 6pmET was up 8% in total viewers vs. 2008 and 5% in the A25-54 demographic. The FOX Report with Shepard Smith at 7pmET was flat year-to-year. While FNC's prime time shows are seeing increases in the demo, their total viewers are down.
Baier and Smith's news hours also cracked the top five cable new programs in total viewers, ahead of FNC's 10pmET prime time program, On the Record with Greta Van Susteren. Smith's 7pmET hour had its highest month of 2009 in total viewers during November. Baier's 6pmET, along with Bill O'Reilly at 8pmET and Sean Hannity at 9pmET, beat their competitors (CNN, MSNBC, HLN) combined in both total viewers and the demo.
Of course, FNC is known mostly for their opinion hosts – Glenn Beck, O'Reilly and Hannity. But the strong numbers seen from their news anchors continues to boost FNC's argument about their own news product, as they face criticism from those on the left…and the White House.
Some other key stats:
• O'Reilly had his highest month of the year in total viewers and the demo (It was also Baier's).
• FNC had the top 13 programs on cable news in total viewers, and the top 10 programs in the demo.
• FNC beat MSNBC, CNN and HLN combined in total viewers in total day and prime time
• FNC had the 3rd highest rated cable network in prime time, 5th in total day.
—–
» Follow Steve Krakauer on Twitter
Have a tip we should know? [email protected]