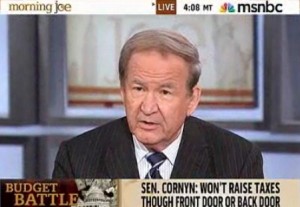 Pat Buchanan parted ways with MSNBC last week, after having been essentially blacklisted by the network, and sapped of all his appearances, back in January. Now that he's a free agent, able to sign with any network he pleases, there seems to be one obvious destination: Fox News.
While most people would say that Buchanan would be a good fit because his right-leaning ways would fit in snugly with the network's opinion programming, that isn't exactly the case. He's not a right wing Tea Party doctrinaire, and manages some surprising opinions once you think you have figured him out. Buchanan is also a bit of a loose cannon and gamble right now, but he seemed to be universally loved by his former co-workers at MSNBC (Chris Matthews offered a passionate defense after his ouster, while the Morning Joe co-hosts issued a statement supporting him)
Buchanan seems an almost natural fit debating with new contributor Sally Kohn, getting snippy with Steve Doocy on Fox & Friends, or sitting at a table across from Bob Beckel at 5 p.m. With CNN's recent Roland Martin and Dana Loesch hiccups, it seems like an increasingly unlikely scenario he'll head to that network. And MSNBC is, obviously, out of the picture.
Even though Buchanan had a great deal of chemistry with Charlie Rose during his appearance on Tuesday's CBS This Morning, the broadcast network doesn't offer the 24-7 cable news analysis that Buchanan fits so nicely into (so far as him being able to skip around from show to show and speak on almost any subject with any anchor).
Fox News has dominated the ratings for a decade, and they're smart enough to realize that not only would Buchanan bring an established audience of followers to the network, he'd also give existing viewers reason to stick around, because of his propensity to throw out a nice mix of controversial opinions and intelligent observation.
UPDATE: Fox News tells Mediaite: "We haven't had any talks with [Buchanan]."
Have a tip we should know? tips@mediaite.com