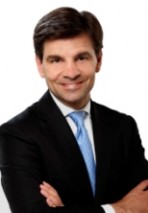 Yesterday the news came out that George Stephanopoulos had been "offered" the Good Morning America job being vacated at the end of next week when Diane Sawyer takes over for Charlie Gibson the following week on World News.
The Washington Post reported the story as "BREAKING" – but it wasn't a surprise. What it means is Stephanopoulos has to take the job.
Every reporter on the TV news beat has their sources for stories, and this lengthy GMA decision is no exception. We reported Stephanopoulos was the leading contender for the job on October 19, had more details on November 18 and still more earlier this week. There are likely a dozen or so people in this same situation. For months, ABC News has been especially tight-lipped about all movement even as some leaks have gotten out. But now we hear Stephanopoulos was offered the job in the middle of "intensive negotiations"? Something doesn't add up.
There are a couple reasons why "sources familiar with the situation" would tell this to the Post: because ABC News wanted it out, because Stephanopoulos wanted it out or because both sides wanted it out – unless neither side does. Let's set aside option four for now. The third reason, why both would want it, would only be because they want to crowd source the idea. Stephanopoulos' jump from This Week to GMA may be a big step up in the eyes of many, including, apparently ABC News execs, but it does move him from a hard news role to one that is broader. By leaking this, they could see the reaction. But it's not likely this is the reason.
It doesn't help Stephanopoulos' side to put this out there, because the only reason he would is if he, essentially, was going to turn down the offer. Having it on record that he was offered the job, and turned it down, allows him to stay in his role (in D.C., talking politics) while making clear he was not passed over for the big opportunity. Still, this doesn't help in keeping the succession low-key.
Instead, we need to look at the one thing that is most important to GMA: beating the long-time morning news leader, NBC's Today show. It is clear ABC believes Stephanopoulos gives them the best chance to do that, and they want him in Sawyer's seat. To pull back now – to give the job to Chris Cuomo, potentially, who has always been a possible replacement, will now sound like a second choice and undermine the impact of the eventual announcement. The fact that the news is out there means Stephanopoulos is increasingly handcuffed into the role – a role that is certainly a step up in exposure and viewers (and salary), but is a departure from the hard news This Week.
We'll know the answer in one week – and the way things are going, we'll probably know it before that through another leak. But for Stephanopoulos to say no now would hurt him, hurt ABC News and, most importantly, turn this major series of anchor succession at ABC News from low-key to highly dramatic.
—–
» Follow Steve Krakauer on Twitter
Have a tip we should know? [email protected]