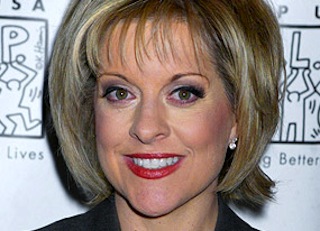 Remind me to never get to a place in my life where, after a horrible, heartbreaking tragedy happens, people instantly start wondering when I'm gonna start talking about it. That's where Nancy Grace is though. After years of becoming the news world's loudest voice whenever the public becomes obsessed with a wrongful death (a trait that's made her a ratings leader for her network), it shouldn't be surprising that people automatically assumed she'd be all over the Trayvon Martin case. And that's why it is surprising that the HLN host has basically been relatively silent on the subject.
There's been no "Tot Mom"-esque nicknames, no clear accusations of guilt. Over at TVNewser, they pointed out that Martin hasn't been discussed once this week on Grace's show while the other prime time shows hosted by Jane Velez-Mitchell and Dr. Drew Pinsky devoted tons of air time to it (Velez-Mitchell even donned a sweatshirt on air to get in on yesterday's hoodie march of support). TVNewser writer Alex Weprin ventured a possible explanation for Grace keeping mum:
"Another possibility is that Grace, who usually presumes guilt, whether it is in regards to Casey Anthony or Whitney Houston being "pushed" under the water, isn't on Martin's side in this case."
While that would be an easy explanation, that Grace doesn't believe that Martin is blameless or merely doesn't find the story as important as others, her Twitter feed completely disproves that: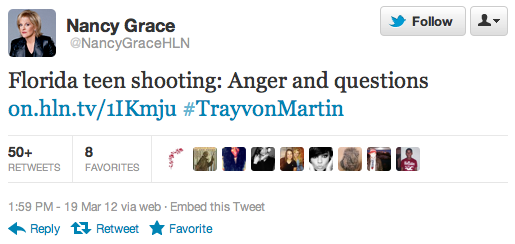 On Monday, when the story was really becoming the biggest story in the nation after bubbling up all weekend, Grace tweeted about it. She tweeted about it again just one day later. Two tweets in two days gives the story just as much coverage from Grace (not as prolific a tweeter as some other media personalities) as any of the other missing children stories she's focussed on this week.
And that just makes the TV silence stranger. Clearly Grace cares about the case and since she has become an advocate in so many similar quests for justice, her lack of discussion is as odd as conspicuous as Greta Van Susteren's was on the Rush Limbaugh scandal.
Have a tip we should know? tips@mediaite.com