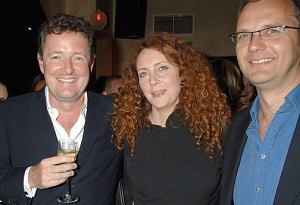 While CNN, like many news outlets, has provided extensive coverage of the News of the World phone hacking scandal, the network has neglected to pursue an angle that hits close to home: CNN host Piers Morgan's own possible indiscretions as former editor of The Daily Mirror.
Adweek decided to directly verify CNN's lack of Morgan coverage with the network itself, which readily confirmed that no airtime has been devoted to Morgan's possible role in any hacking allegations. A network spokesperson explained that Morgan "has not been officially called to testify in England." Furthermore, the spokesperson pointed to an interview Morgan conducted this week with CBS' The Talk, where he insisted that "the papers I edited always operated within the law."
But that hasn't stopped some from questioning Morgan's possible involvement with a hacking scandal involving Swedish television presenter Ulrika Jonsson and soccer manager Sven-Göran Eriksson. British blogger "Guido Fawkes" presented the story that Morgan, under pressure to breathe new life in the paper's gossip section, was aware that journalists at the Mirror had hacked phones to obtain information on an affair between the two Swedes:
James "Scottie" Scott, the Daily Mirror's showbiz reporter at the time, was listening into Ulrika Jonsson's voicemails when he was flummoxed by messages in her native Swedish. As fortune would have it, he was able to get a half-Swedish Mirror secretary to translate the mysterious voicemails. It was clear from the translations that the couple were having an affair. The male voice sounded just like the then England football manager Sven Goran Eriksson. The paper put the allegation to the sexy Swedish shaggers and they coughed to the truth of the allegation. It broke on the [sic] April 19, 2002.

The paper's editor at the time, one Piers Morgan, was receiving flak for the fact that his 3AM Girls gossip section was dire rubbish and lacked any bite compared to Morgan's old Bizarre column in News International's Sun. Morgan decided to let 3AM Girl Jessica Callan break the illegally obtained story under her byline in order to try and rid the column of its banal reputation.
The Mirror's parent company responded to these allegations by stating that "Trinity Mirror's position is clear. Our journalists work within the criminal law and the PCC code of conduct."
Which all prompts the question: If Morgan is indeed called to appear before Parliament (and, again, it's important to note that no formal, official allegation has been made against him) will CNN cover it? Will there be a bits and pieces of the story floating around various programs, or will the network present an exclusive one-on-one interview with Morgan, complete with soft lighting and a Vaseline-smeared camera lens?
h/t Adweek
Have a tip we should know? tips@mediaite.com