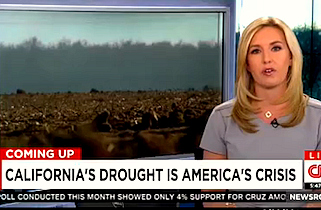 A Mediaite survey of the three major cable networks found scanty coverage of one of the past month's major news stories: The worsening California drought, which is reaching crisis levels. This was during a month in which multiple heat records were broken, the most restrictive water conservation measures in state history" were enacted, and Governor Jerry Brown (D) pushed a $1.1 billion relief program.
According to the media research tool TVEyes, we found that MSNBC gave the story about 20 mentions in March, more than its main competitors Fox News and CNN combined. MSNBC's coverage was also more substantial, occurring throughout its news programs as well as in its primetime commentary shows.
By contrast, the majority of Fox's mentions of the drought came during weather forecasts; as a news story, Fox only covered the drought only four times. CNN devoted an occasional Sunday segment, though several of the network's mentions came during its original programming, such as The Wonder List.
The lack of coverage is likely the result of two primary factors: East coast bias and perception of climate as an urgent subject. Just as former Oregon Gov. John Kitzhaber (D) can resign in a corruption scandal with a bare percentage of the coverage New Jersey Governor Chris Christie (R) received for Bridgegate, so are large west coast stories often overlooked by an east coast-headquartered media. East coast bias was also cited to explain why last year's mudslide in Washington state received relatively little coverage despite a death toll of 39.
MSNBC's coverage is likely the result of the liberal network's focus on climate change — a study this month linked the drought to climate change — priming it to cover more climate-related issues, even if they are not explicitly linked to climate change.
California's drought is in its fourth year. Experts believe the state has only one year of water reserves left in its reservoirs, while farmers are already facing significant cuts and a worrisome economic outlook that could ultimately affect food prices. Some experts fear California is in the start of a "megadrought," in which lack of snowfall is exacerbated by higher temperatures for years on end.
[Image via CNN/screengrab]
——
>> Follow Evan McMurry (@evanmcmurry) on Twitter
Have a tip we should know? tips@mediaite.com