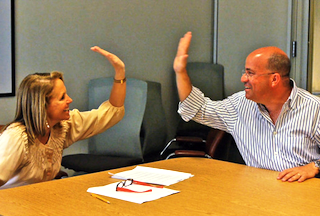 With news that Katie Couric's syndicated daytime talk show Katie will officially end its run next June after just two season on the air comes a new round of speculation that she could be headed for a reunion with long-time producer and now CNN president Jeff Zucker. Here's why that's just not going to happen.
The first, and most obvious reason, is that Couric already has a new venture on the horizon. Last month, Yahoo announced that it had named her as the company's first "global news anchor." What exactly that will mean for Couric is yet to be seen, but it marks a big push by CEO Marissa Mayer into the increasingly overlapping worlds of internet and television. In her official announcement, Mayer said Couric will be "shooting features" for the Yahoo homepage. She also made sure to note that the anchor would continue to host her daytime talk show for ABC.
Now that the syndicated show will be going away, it could leave a hole in Couric's schedule. She could either fill it by beefing up her role at Yahoo — becoming more than just the "face of Yahoo News" — or she may want to maintain some presence on actual television for as long as the demarcation between media exists. But it still appears highly unlikely that she will end up at CNN.
While Zucker worked closely with Couric when she hosted the Today Show for NBC and also served as an original producer on Katie, he has seriously downplayed the possibility that she could join him at CNN. "We did not have any conversations with Katie about coming to CNN," Zucker told Capital New York earlier this month. "We think about everything under the sun, but in the end, that was not something that we — not a path we went down."
Why would Zucker make such a definitive statement if he did see it as a possible "path?" Wouldn't it have been easier for him to just give a more generic, "you never know, anything could happen" type of answer? He appeared to be trying to shut down the speculation and put the focus elsewhere, but so far he hasn't managed to make that happen.
Additionally, Couric's brand doesn't seem to fit with Zucker's vision for CNN's future. In that same interview last month, he explained his plans to have "more shows and less newscasts" on the network, to let go of CNN's perceived objectivity to offer people programs with "attitude and a take."
Despite the fact that one of Couric's defining moments as a journalist involved embarrassing Sarah Palin, she is by no means an opinion host. She was beloved by many, which made her perfect for morning television and should have benefited her more on daytime, but would not make her great for cable news. Her most recent bit of controversy involved some misleading information about the HPV vaccine, which she quickly tried to dispel as opposed to what Fox News' Megyn Kelly did after her "Santa Claus just is white" comments.
Couric and Zucker may have had their most successful television experiences when they worked together way back when at NBC, but now that they've parted ways they are almost certainly going to have to find their new successes separately.
[photo via KatieCouric.com]
— —
>> Follow Matt Wilstein (@TheMattWilstein) on Twitter
Have a tip we should know? [email protected]