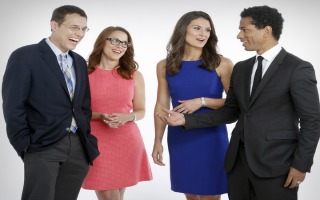 When MSNBC launched The Cycle in June, there was a dearth evidence that a roundtable program with several consistent hosts could be successful. That The Cycle seemed to be attempting to introduce more cerebral topics into their program – interviewing various authors and experts to discuss issues that may be worlds away from the topic gripping the news cycle at that particular moment — made it appear even more unlikely that this show was destined for the cable news hall of fame. My reservations have proven unfounded. The Cycle has, in short order, shown itself to be an informative, entertaining and provocative program that will reshape how future news network executives will program their channels.
RELATED: MSNBC's The Cycle's Co-Hosts Open Up To Mediaite About Launching New Show And Facing Critics
Beyond the subject matter tackled, which is always worthwhile, the hosts in particular have made this program a must watch. All are both entertaining and provocative. While the hosts have well-established and divergent points of view, they are never predictable in expressing them.
Steve Kornacki, the resident political historian, is strikingly knowledgeable. His encyclopedic grasp on politics makes for fascinating viewing. He is always quick with a precedent or a historical parallel to add much-needed context to virtually any situation.
Krystal Ball, the only host with actual campaign experience – and on the federal level at that – has a firm grasp on the inner workings of a political campaign. Ball, representative of a new generation of Democrats hailing from the "New South," provides an important liberal perspective on the topic of discussion.
Touré, never one to shy away from controversy, is a force of nature. Coming from a more progressive point of view, Touré is quick to challenge preconceptions and introduce Critical Race Theory into the topic of discussion. Even if you think you know what Touré's take on an issue will be, he will always surprise you.
S.E. Cupp is quick to provide her independently formed and often unashamedly conservative point of view on the issues of the day. Often met with incredulity from her fellow co-hosts, Cupp provides an unfiltered conservative perspective on events that is missing from the most of MSNBC's programming lineup.
The hosts have a genuine rapport with one another. Their chemistry is genuine and enjoyable to watch. Along with Fox News Channel's The Five, The Cycle has proven that the panel program with a stable of hosts is a clear winner and a viable alternative for news-talk programs (both broadcast and cable) desperate for a format shakeup.
But The Cycle brings something different to the table. In the style of NPR or late night radio talk programs, The Cycle invites scholarly authors and experts onto their program – not to grab ratings – but to inform their audience. They seek to elevate the level of discourse and, with the occasional notable exception, keep the dialogue healthy and edifying. That's a big risk. This show deserves to be rewarded for the effort.
This show is off to great start after little more than a quarter on the air. The future is bright for this this show and others like it that will model their programs after The Cycle.
> >Follow Noah Rothman (@Noah_C_Rothman) on Twitter
Have a tip we should know? tips@mediaite.com