Why Nancy Pelosi Charged This GOP Rep. on House Floor: 'I Hit the Right Nerve'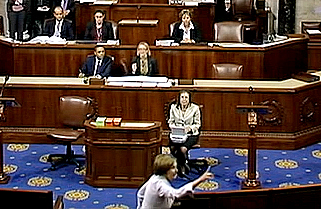 Representative Tom Marino's (R-PA) accusation that the Democratically-controlled House of the late Bush administration did not address lapses in border security had then-Speaker and now House Minority Leader Nancy Pelosi (D-CA) charging toward him on the House floor Friday night.

"We don't have law and order," Marino said during debate on the border bill. "My colleagues on the other side don't want to do anything about it. …Under the leadership of the former Speaker…they knew this problem existed. They didn't have the strength to go after it back then. But now are trying to make a political issue out of it now."
This had Pelosi running up to Marino to rebut the accusation off-mic and without being recognized.
"Yes it is true," Marino said after Pelosi challenged him. "I did the research on it. You might want to try it. You might want to try it, Madam Leader. Do the research on it. Do the research. I did it. That's one thing that you don't do."
"Apparently I hit the right nerve," Marino said of the exchange. He tweeted about the specifics later:
Rep. Pelosi called me an 'insignificant person' on the Floor of the House. I'll ponder that for a while driving to Williamsport tonight…

— Rep. Tom Marino (@RepTomMarino) August 2, 2014
…of course I'll be driving myself, with no staff or security. And I'm just a country lawyer who worked in a bakery until he was 30…

— Rep. Tom Marino (@RepTomMarino) August 2, 2014
…so maybe I am not significant enough to question the former Speaker. But why then did she get so bothered by my comments?

— Rep. Tom Marino (@RepTomMarino) August 2, 2014
Watch the clip below, via ABC News:

ABC News | More ABC News Videos
[h/t ABC News]
[Image via screengrab]
——
>> Follow Evan McMurry (@evanmcmurry) on Twitter
Have a tip we should know? tips@mediaite.com