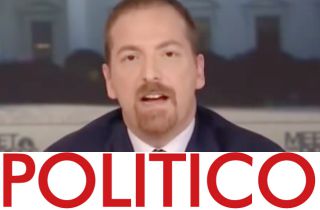 Exclusives are something that no longer mean what they used to in the news business. These days it seems only those inside our little media bubble give a hoot anyhow. But being immersed in said bubble, they still matter to me.
The biggest offender is not in cable news or the newspaper game, but ESPN. Time and again, the Worldwide Leader will claim it has an exclusive that clearly was reported first by another outlet. As a former sportswriter and producer, it's safe to say Bristol wins the ESPY for exclusives that never originated with them. If you need any more proof, grab a beer with Jay Glazer of Fox Sports, Daniel Tosh of Comedy Central or basically anyone at Yahoo Sports…they'll tell you with a few expletives thrown in along the way that ESPN is the Worldwide Leader in story theft.
Once in a while, I'm able to offer up a decent exclusive on Mediaite. Could be about the cable news business and who's coming and going, celebrities entering (and quickly exiting the cable business) or maybe about an exiting White House press secretary. Exclusives are obviously tricky because you need to absolutely trust your source and verify from there. And trust is a four-letter expletive lately in many parts of society, particularly among media folk, so when going ahead with a relatively big story, you better be damn sure the meat is accurate or face a career of ridicule.
On Thursday morning, just after midnight, I went ahead with such a story that — at least in the cable news business — was kind of a big deal. I had a source that hadn't failed me before confirming some whispers from an executive producer and a host at MSNBC: The ax was finally coming on a few afternoon shows that were (to put it generously) struggling. But this information had a key nugget: Chuck Todd's return to MSNBC. Source even had a timeslot: 5:00 p.m., meaning Ed Schultz was about to lose his show… again.
So after working with an editor, the story went live at 12:12 a.m. Thursday morning. I fell asleep four minutes later. Waking up with a 21-month-year-old daughter to allow your eight-months-pregnant wife to sleep usually means being in bed by 10 p.m., which used to be the time Hoboken-single-me was getting ready to go out. But upon awakening at the usual early morning hour and eventually checking the usual publications to see what was new and exciting, I came upon Politico's "exclusive" on Chuck Todd getting his own show back on MSNBC at 7:23a. For those keeping score at home, that's seven hours after the same "exclusive" appeared on Mediaite.
Via the Politico "Playbook":
EXCLUSIVE: Chuck Todd, moderator of NBC's "Meet the Press," is being given an hour-long weekday show on MSNBC, as part of a massive schedule makeover by the cable network. Time slot is TBD. The format will be similar to Chuck's former MSNBC show, "The Daily Rundown": interviews, news and analysis. Likely to start in September.

Now some in this situation would turn to Twitter to question the writer or writers in question (in this case, Mike Allen and Dan Lippman), but that's all about showmanship and unprofessionalism. Allen and Lippman's email was available, however, so I wrote them directly. Again, this is where things can get nasty in a hurry even if the intent is to be civil. Email is a toneless medium. Everything skews negative. And besides, I like the "Playbook" and particularly Allen's work. My first thought was to give them the benefit of the doubt based on a reasonable premise: Maybe they missed the Mediaite story from seven hours earlier. Maybe the Twitter buzz around Todd and the MSNBC changes (which didn't all happen today, but will soon) created by said story was missed as well. Respect for Allen alone ensured I would stay polite and professional. Here's the basic gist of my email to Allen and Lippman:
Hope all is well. Just a heads up: I had the MSNBC story seven hours before your post. Could you kindly remove that "exclusive" part and attribute me with getting it instead? Read your column every day. Part of my daily breakfast…just want to see this corrected as professionals instead of via Twitter battle.
Allen and Lippman responded separately. Both were courteous and respectful. But despite the civil tone, the story wasn't changed or corrected — also despite me responding and asking again to have their story updated in the interest of common courtesy and accuracy. At this hour, it still claims to be an "exclusive" even though both writers know it wasn't close to one. And then Politico media writer Dylan Byers proceeded to go completely out of his way to avoid the publication or the person behind the exclusive.
Via Byers at 1:36 p.m. Thursday:
This is finally coming to pass: On Thursday, our colleague Mike Allen reported that "Meet The Press" moderator Chuck Todd would add a daily MSNBC program to his portfolio. He will be joined by Brian Williams, the former "Nightly News" anchor, who is joining the network as a breaking news and special reports anchor following his fall from grace at NBC. Meanwhile, MSNBC is expected to soon announce the cancellation of several progressive talk shows, including "The Ed Show," the loss of which is already being mourned by Bernie Sanders.
Again, Allen, Lippman and Byers are all media writers I respect, particularly Byers… whom I've praised and attributed material to several times in the past, including just two weeks ago.
But it's hard for me to continue to hold the likes of Allen and Byers in such high regard moving forward, given the obvious attempt to claim something as a Politico exclusive when they (and anyone else following this) both know that just ain't true. I am not saying they necessarily read my story and ripped it off because in the end, that is beside the point. They likely had a source, missed my midnight post and thought they had a scoop. But upon being notified privately later with an ask to simply update it (because in the online publishing world, you can quickly and easily), the request went ignored and the "Politico Exclusive" narrative pushed.
The whole thing brings me back to 1981 and the greatest action film of its time, Raiders of the Lost Ark (the only one in the Indiana Jones series worth watching). The Nazis were the bad guys, sure… but René Belloq — a French archaeologist and Indy's nemesis — was the true villain. And when Jones finally does all the tireless work and digs up the precious ark, there's Belloq — gun in hand — waiting to steal it from him at the one-yard line. That's basically what Allen did today with an assist from Byers, who apparently feels too far above such a petty publication like Mediaite to be bothered to even mention it in his reporting on the MSNBC situation some 13 hours after you could read about it here.
Exclusives just ain't what they used to be. But sometimes some folks do the right thing and actually attribute where attribution is due: Michael Calderone at the Huffington Post is one example. Erik Wemple at the Washington Post is another. As is Ed Morrissey at Hot Air and the countless (and underrated) blogs who value good journalism over ego and so-called standing in the elite media world.
I am not counting on an apology or retraction from Politico. I am sure they feel they break stories and sometimes don't get credit for them either. All the more reason for them to do the right thing, that is, if exclusives still mean something in this business.
— —
Follow Joe Concha on Twitter @JoeConchaTV
Have a tip we should know? tips@mediaite.com