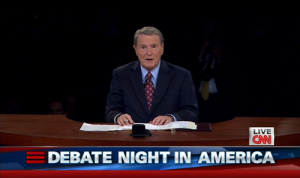 Tonight's debate between President Barack Obama and Mitt Romney was a particularly strong one, yet something it sorely lacked was the two candidates being held accountable for their policies. Jim Lehrer, the debate moderator, mostly did a good job making the debate as intense as possible, but Obama and Romney should have been brought up on that stage to answer for their policies and be confronted with the facts.
According to the transcript posted live during the debate on ABCNews.com, Lehrer's first question was "What are the major differences between the two of you about how you would go about creating new jobs?" Later on, Lehrer asked the candidates to explain "the difference" on their tax plans.
The next big questions out of Lehrer's mouth were "What are the differences between the two of you as to how you would go about tackling the deficit problem in this country?" and "Do you see a major difference between the two of you on Social Security?", followed with queries for the candidates to explain their differences on Medicare, federal regulation of the economy, and health care (of which Lehrer acknowledged that there is a very stark and obvious difference between the two candidates on their positions).
These were the same kind of questions Lehrer asked Obama and John McCain when he moderated the debate between them four years ago. Lehrer is an old-school moderator, and I don't fault him for the questions he asked. It is not fair to blame him for the bad questions, these are the kind of questions we have regrettably come to accept from the format. But debates should not be platforms for candidates just to regurgitate their talking points. That's what campaign stops and political conventions are for. Moderators should be willing to call out candidates and follow up with them if what they are saying does not, to put it bluntly, pass the smell test.
And honestly, the best parts of the debate were when Obama and Romney decided to just talk to each other and bypass Lehrer. The debate felt more authentic and challenging between the two men in those moments. There was one moment where Lehrer tried to intervene and take charge as a moderator, and Obama told him, "I had five seconds before you interrupted me." Not to mention Obama and Romney were fact-checking each other a lot more than Lehrer was.
News organizations were fact-checking like crazy during the debate. For example, The Washington Post quickly posted fact-checks on Obama's deficit plan and Romney's tax cut proposal. We have the technology to fact-check things in real time, as the innumerable news organizations fast at work tonight have demonstrated. What about having a debate where the moderator has a team fact-checking the candidates in real time and allowing the moderator to call out the spin as it happens?
[Image via]
—–
Follow Josh Feldman on Twitter: @feldmaniac
Have a tip we should know? [email protected]
Josh Feldman - Senior Editor