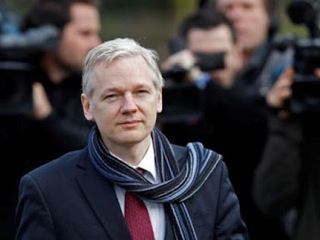 It has been a while since we heard from the chief editor of Wikileaks and profoundly bizarre Australian "hacktivist" Julian Assange, currently on house arrest in the UK. As it turns out, he is working on a gig in 24-hour news— at the network formerly known as Russia Today, RT Television. He will be "hosting a series of in-depth conversations with key political players, thinkers and revolutionaries" starting this March. A talk show hosted by Julian Assange? What could possibly go wrong?
RELATED: Wikileaks Releases Largest Document Dump In History, And No One In America Cares
The official Wikileaks press release on the program describes it as a series of "in-depth conversations" whose theme will be "the world tomorrow" (Russia Today described the focus in their press release as "controversy," according to the New York Times)– which, sadly, is not exactly how SNL imagined an Assange-hosted show last year. It is also very modest.
Just kidding! It describes Assange as "a pioneer for a more just world and a victim of political repression… uniquely placed to catalyse a global discussion on how to go forward":
Julian Assange will be hosting a series of in-depth conversations with key political players, thinkers and revolutionaries from around the world. The theme: the world tomorrow. […]

WikiLeaks, as the world's boldest publisher, has been at the front line of this global movement for understanding and change. Its founder, Julian Assange, as the subject of an ongoing Grand Jury investigation in the United States for over 500 days now, is one of the world's most recognizable revolutionary figures. […]

In recognition of this, Assange will draw together controversial voices from across the political spectrum – iconoclasts, visionaries and power insiders – each to offer a window on the world tomorrow and their ideas on how to secure a brighter future. […]

The series will begin airing in mid-March, in ten weekly half-hour episodes. Initial licensing commitments cover over 600 million viewers across cable, satellite and terrestrial broadcast networks.
It also includes this quote from the man himself:
"Through this series I will explore the possibilities for our future in conversations with those who are shaping it. Are we heading towards utopia, or dystopia and how we can set our paths? This is an exciting opportunity to discuss the vision of my guests in a new style of show that examines their philosophies and struggles in a deeper and clearer way than has been done before."
Say what you will about Assange (and there is a lot to say about Assange), if anyone is complex and interesting enough to host a TV show about politics in the world today, if only for entertainment value, Assange is the man to do it. We hope this one doesn't go the way of the book deal.
Have a tip we should know? tips@mediaite.com