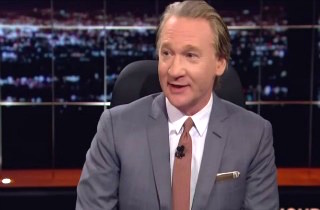 Now that the measles has resurfaced in the United States, the national debate over mandatory vaccinations has moved to center stage, engulfing pretty much every possible 2016 presidential candidate and major media figure to cross paths with the topic.
Strange new alliances have emerged as past histories of prominent politicians holding skeptical views of certain vaccines have been dug up. One public icon who has thus far escaped the scrutiny is HBO's Real Time host Bill Maher.
Over the past decade, the comedian has repeatedly and openly expressed doubts about vaccinations while lending credence to theories that certain inoculations can cause disorders like autism. Maher, like many other wealthy celebrities, proudly rejects "Western medicine," which helps explain why a great deal of the anti-vaccination crowd is made up of well-educated, California-based elites.
Over at the Daily Caller, media writer Chuck Ross runs through Maher's anti-vaccine history, but here's a brief rundown with some more examples:
Back in 2005, Maher told Larry King that the flu shot is "the worst thing you can do." He declared that "if you have a flu shot for more than five years in a row, there's ten times the likelihood that you'll get Alzheimer's disease," referring to a debunked study that claimed an additive (mercury) within the shot was to blame. (In fact, studies have shown the opposite effect.)
Several months later, he re-upped those claims, but this time while facing off with CNN's Dr. Sanjay Gupta. "If we were healthier and we boosted our immune system more, then we wouldn't have to fear these viruses," Maher claimed. The doctor politely rebutted him: "I don't think that just by eating right and exercising is going to necessarily keep you safe from bird flu […] [W]e're talking about 50 million people died in 1918. And not all of them were eating shit every day."
Also, in 2005, Maher asserted on his show that "I don't believe in vaccination." He then claimed that we "go by the Louis Pasteur theory, even though Louis Pasteur renounced it on his own deathbed and said that Beauchamp[s] was right: It's not the invading germs, it's the terrain. It's not the mosquitoes, it's the swamp that they are breeding in."
There is actually no evidence Pasteur ever recanted any of his theories.
Four years later, Maher interviewed then-Sen. Bill Frist (R-TN), a Harvard-educated cardiothoracic surgeon, and put his medical quackery on full display. "Conservatives always say about health care: Are you going to let the government run health care?" the comedian began. "They screw everything up. So why would you let them be the ones to stick a disease into your arm?"
"I would never get a swine flu vaccine or any vaccine," Maher declared; Frist countered that the HBO host was "crazy." Watch that battle below, via HBO:
The debate with Frist created a media frenzy, leading to Maher addressing the discussion on his show the very next week. "If you don't believe me look on the CDC website as to what is in the swine flu vaccine," he said. "Aluminum, insect repellent, formaldehyde, mercury." He assured his audience that he is "not crazy."
Chris Matthews was skeptical of Maher's claims and Martin O'Malley tried to debunk it all, but the seal-clapping audience drowned them out. Watch that follow-up segment below, via HBO:
That same year, he wrote a lengthy piece for the Huffington Post detailing his sources and lending credibility to anti-vaccine doctors who oppose nearly all childhood immunizations, and who are connected to a retracted study that is largely the driving force behind popular anti-vaccine movements.
And then last month, Maher's anti-vaccine sentiment quietly re-emerged in an interview with Dr. Atul Gawande. Citing a CDC report that the flu vaccine was 23% effective this past year, Maher maintained that "flu vaccines are bullshit." (Would Maher rather us be 0% effective at immunizing against the flu?)
He reiterated: "It's a big scam to make money."
Dr. Gawande patiently explained to his host that this flu season, we have a "particularly virulent strain that has what's called genetic drift." The entire time, Maher mockingly dismissed the doctor's assurances with smirk-laden "yeahs." Watch that below, via HBO:
And that brings us to this week. His Real Time panel includes no doctors, but features two conservative pundits and a journalist — any of whom will likely take the opportunity to prod Maher in light of this week's news.
So will Maher address his history on the matter and say something controversial? It seems unavoidable.
— —
>> Follow Andrew Kirell (@AndrewKirell) on Twitter
Have a tip we should know? tips@mediaite.com