Will Cain Agrees With George Will That Trump Shouldn't Be Campaigning With Romney: 'Flat Out No'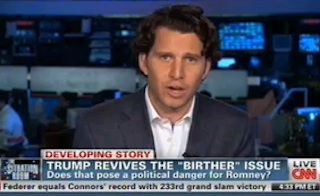 On CNN's The Situation Room with guest host Jim Acosta , political analysts Will Cain and Hilary Rosen spoke about the wisdom of presumptive Republican nominee Mitt Romney's fundraising dinner with Donald Trump. "You comfortable with Donald Trump hosting and being at a fundraiser with Mitt Romney there in Las Vegas?" Acosta asked Cain. "No, no, just flat out no," Cain replied sharply.
"Does that seem like trouble to you?" Acosta pressed.
"Yeah absolutely, look, it's easy when the battle is often between George Will and Donald Trump to side with George Will — George Will who called Donald Trump an ignoramus and doesn't see the cost-benefit on aligning yourself, Mitt Romney with Donald Trump, I find myself on that side," Cain opined. "I don't see the cost-benefit payoff of aligning yourself with Donald Trump. I do think that candidates aren't responsible for all the views of their surrogates. But that being said, I still don't think it's worth it. There's no need to have Donald Trump in the sphere — in the sphere we can define as how about just politics in general."
RELATED: George Will Savages Trump: He's A 'Bloviating Ignoramus' With A 'Very Low' IQ
Acosta asked Rosen about Will's comments, and who was right.
"Say it Hilary," Cain chimed in. "You know it's George Will. You want to say neither but say it's George Will."
"George Will is right," Rosen agreed. "I think as a practical matter, the fact that Mitt Romney is afraid to push Donald Trump aside says almost too much about Mitt Romney and who cares about Donald Trump, we care about this guy we're electing and he needs to talk about where he stands in respect to supporting Trump or not."
Watch the segment below via CNN:

Have a tip we should know? tips@mediaite.com