Will Cain Blasts Media: They Turn Coverage of 'Obama's Failures into Something About Republicans'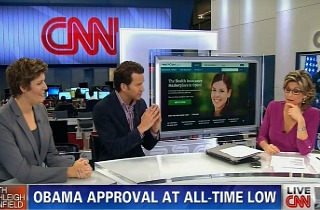 CNN contributor and The Blaze columnist issued a stinging rebuke of the political press on Thursday to the face of a member of the political press.
During a discussion about the Affordable Care Act's failures and their negative impact on President Barack Obama's public approval ratings, CNN anchor Ashleigh Banfield and progressive columnist Sally Kohn continually introduced the seemingly irrelevant actions of Republicans into the conversation. Cain, having had quite enough, threw his hands up and asked what Republicans had to do with that topic, and why the press cannot focus on the president's failures and apparent deceit without attempting to soften the blow by introducing Republicans into the conversation.

Banfield began the segment by noting that she was all for accountability in government, and that the failure of the ACA's implementation requires someone accept culpability. However, the news that Rep. Darrell Issa (R-CA) intends to subpoena of Health and Human Services Sec. Kathleen Sebelilus to return to Congress for more testimony could be "grand standing."
"Somebody get Darrell Issa a pointy hat, because he is on a witch-hunt," exclaimed Kohn after dismissing the concerns that people signing up for the health insurance exchanges may be compromising their financial information. A concern which even the head of Medicare and Medicaid services, Marylin Tavenner, warned in writing could be a signification threat to the public.
Banfield, citing a recent Wall Street Journal/NBC News poll, noted that the ACA's faulty roll-out and the collapse of a number of election year promise he made the public relating to how that law would impact them has taken a toll on the president's job approval rating. By way of context, however, she added that Presidents Harry Truman and Richard Nixon both had lower approval ratings at this point in their presidencies.
RELATED: Medicare Chief Warned in Memo: Obamacare Site a 'High Risk' to Users
Cain, apparently, had just about enough of the strained efforts to create equivalencies by this point. "Why are we talking about Republicans' approval rating," he asked with more than a hint of exasperation. "How is it we can turn every conversation into President Obama's failures into something about Republicans?"
"It's about credibility," Cain said before criticizing his own assessment of the president's self-evident mendacity and incompetence as being "too benign."
Cain said that, over the past year, the president has strained the public's trust over the issues of intervention in the Syrian civil war, the seizure of the communications records of journalists, and the targeting of conservative groups by the Internal Revenue Service with undue scrutiny.
He was met with groans by both anchor and liberal guest when he accurately attacked Obama for attempting to convince the public that he has been a bystander in his own administration when it encounters failure but he is at the same time singularly responsible for his White House's successes. "This is the apex," Cain concluded. "The ultimate indictment of credibility."
Judging by Banfield's sign off, Cain's searing indictment of both the president and the political press did not register with her. But his critique is increasingly resonating with the public. Banfield whistled past her industry's graveyard with her utter dismissal of Cain's rebuke. Perhaps the rest of her profession will not so casually dismiss his warnings.
Watch the clip below, via CNN:
[Photo via screen grab ]
— —
> >Follow Noah Rothman (@NoahCRothman) on Twitter
Have a tip we should know? [email protected]