Will Cain Blasts Obama, Maddow for Scoffing at Romney's 2012 Warnings About Russia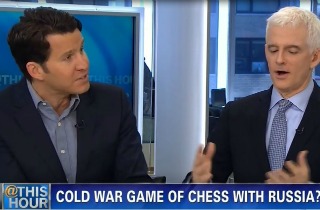 CNN contributor Will Cain tore into both President Barack Obama and his media supporters, including MSNBC host Rachel Maddow, on Monday over their 2012 dismissals of GOP presidential candidate Mitt Romney's warnings about the threat Russia posed to geopolitical stability. Cain said that they have been discredited by recent events in global hotspots like Ukraine and Syria.

"The 1980's are now calling to ask for their foreign policy back," Obama swiped at Romney during a 2012 presidential debate. He echoed his insistence that approaching Russia with a Cold War-mindset is counterproductive, in spite of the fact that Russia appears to view geopolitics in its near abroad as a zero-sum game.
But events in recent months have suggested that Romney had a greater grasp on the threat to American interests that Russia poses than his critics gave him credit for.
RELATED: Romney Rips Into Obamacare, Russia's Combative Role in the World
"The president seems to think that if he says it's so, then it will be it – it will be so," Cain began. "We have been involved in an emerging Cold War with Russia for several years; from Georgia, to Syria, to Ukraine."
Cain said that Romney was "snarked at" by both Obama and Maddow for assertions that have ultimately been proven correct. Cain did, however, agree with non-interventionists like former Rep. Ron Paul (R-TX) who warned that the U.S. should not become too deeply involved in the conflict in Ukraine.
Anchor John Berman pushed Cain on what he saw as a "contradiction" in his statements. "You first must – and this is a must – recognize reality," Cain said. "That is what President Obama is denying to do."
"You can't pretend the world exists the way you want it to," he concluded. "You have to understand the way it is working in reality."
Watch the clip below, via CNN:
[Photo via screen grab]
— —
> >Follow Noah Rothman (@NoahCRothman) on Twitter
Have a tip we should know? tips@mediaite.com