Will Cain Grills Six-Term Incumbent Sen. Richard Lugar: 'When's Enough Enough?'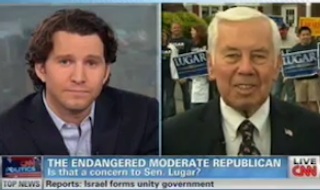 Republican Indiana Senator Richard Lugar appeared on CNN's Starting Point on Tuesday, on the day of a decisive primary that could end his 36-year career in the Senate. Host Soledad O'Brien asked Lugar if there wasn't room for a moderate in the US Senate anymore. "I believe that Hoosiers will vote for me today," Lugar responded.
Lugar also lamented that the "bulk of the money being spent on the campaign has been by so-called outside interests."
Co-panelist Will Cain asked the Senator if his age was a factor and that if six-terms in the Senate was enough.
"The debate is being set up between a moderate and someone on the far right-wing, between the tea party and establishment. I'm not sure that's the debate that Indianans are having right now," Cain observed. "You'll be 86 by the end of your next term. Is it a legitimate issue for people to look at your term and say when is enough enough?"
"I don't think it's a legitimate issue," Lugar replied. "I would just say parenthetically I'm the only person to finish the Capital Challenge Race the last 30 years and I intend to compete again this month. We're not only 80 years of age but we're still running. Not only for office but physically! I'm very grateful that God has given me the strength and vigor but we have it. We want to continue to exemplify it in the service of our country and in the best interest of all Hoosiers."
Watch the interview below via CNN:

Have a tip we should know? tips@mediaite.com