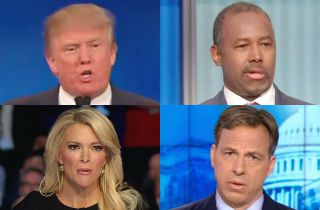 A common wager in the world of gambling is not the point spread, odds of winning or money line, but the over/under. An O/U is a rather simple proposition: A total number of points or runs of a particular game is provided by Vegas, and the choice is to either go above that number or below.
For example, the over/under for the Giants-Cowboys Sunday Night game on NBC was set at 52. Final score? Cowboys 27, Giants 26… 53 total points, thereby putting the hypothetical bet into the "over" category.
So what's the over/under for the CNN GOP debate on Wednesday night? Vegas doesn't get involved in such matters, so I'm turning to many of America's top media writers instead to get their predictions. Simple question: Will CNN eclipse Fox's record-breaking audience of 24 million set back in August?
Well… here's how the gurus (in no particular order) answered the question of what the final audience number will be:
Erik Wemple, Washington Post: "Going with 19.567 million." As always, Wemple is profoundly precise.
Lloyd Grove, The Daily Beast: "If Don Lemon were the moderator, I'd predict 30 million—at least for the first half hour. That not being the case, I'm gonna say 23 million." Well played, Mr. Grove…
Jordan Chariton, TheWrap.com: "20 million. And Fiorina/Kasich will have biggest nights."
Spud, Inside Cable News: "More than it deserves this far out from the primaries. It will be big but it will be big for all the wrong reasons." When pressed for a specific number, the online media veteran would only reply, "I could do my best Carl Sagan…'millions and millions and millions'"…
Betsy Rothstein, The Daily Caller: ""I'm going with 17 million. The Fox News boon was a fluke ~ it was the first debate with Trump and everyone was dying to tune in. Now he's everywhere. To call him a media whore is putting it mildly. People will watch but it won't be with shock and awe. And yes, I know, famous last words."
Frank Sesno, former CNN correspondent, anchor and Washington bureau chief, currently director of the School of Media and Public affairs at George Washington University: "I'll say 18.5 million. Strong in the demo; good diverse audience."
Eddie Scarry, Washington Examiner: "CNN still lacks Fox's inherent advantage of already having the biggest audience in cable news so I think it will fall short of the first debate. Let's go with 18 million."
Stephen Battaglio, Los Angeles Times: "My prediction for the first debate on Fox was 14 million. I stopped saying it because people responded as if I was out of my mind. This one is tricky because with the earlier start on CNN – 8 p.m. Eastern time, you¹re going to have a lower rated hour averaged in. Fox tends to do better with GOP-oriented event coverage, but Trump transcends that factor. People were throwing viewing parties last time. I¹m going to say 21.5 million."
David Zurawik, Baltimore Sun: "I know this is nuts, but I am going to go for 25 million. The 24 million on Fox was astounding, but interest has only built since then, and the candidates are now appearing in all dayparts, including latenight the last week since Colbert arrived."
Zurawik continues: "Plus, there could hardly have been more promotion for the debate on CNN and elsewhere – and it has been promoted as entertainment, which doesn't hurt in bringing new viewers into the tent. The bad news ratings-wise, there's no Megyn Kelly questioning Trump. But the storylines of some of the other candidates going after Trump no-holds-barred might help offset that."
Truth be told, I was originally in Z's camp with that 25 million number. But unlike the August debate, which had an unmistakable, palpable buzz leading up to it, this feels more like The Hangover Part II than the original. Yes, many people will watch and yes, Trump and the drama/ridiculousness of this race has only grown in the six weeks. And yes, Carly Fiorina will go after the GOP frontrunner fearlessly, which, outside of Rand Paul briefly in Round 1, wasn't part of anyone candidate's plan out of fear of the unknown of a Trump retort (and alienating his growing support).
August is also usually television's slowest month for original programming due to vacations and the allure of being outdoors in general. This should have been a weakness for Fox, but the feeling here is it was actually a plus… only because there was no real competition on the air that night or that week, and the hype going in had the feel of an old heavyweight championship fight. But come tonight, it's a much more competitive landscape across all networks, which may take a few (but not many) viewers from CNN. It should also be noted CNN's dominant digital platform may steal some audience from the broadcast side as well via streaming the event online.
So, my final answer is… 22 million. It is a number, however, offered up without much conviction since any prediction that somehow involves Trump usually ends up horribly wrong (as basically every political pundit can attest to).
Either way, get your popcorn and Patrone ready and make sure that phone is fully charged to absorb the priceless reactions on Twitter.
This election is already the best political theatre we've seen in our lifetime: A daily reality show roller-coaster that is short on substance but high on entertainment value.
Substance may eventually seize the day in this election cycle, but for now, Trump is the straw that stirs the drink. And as we'll see when the gaudy numbers come in on Thursday…America's thirst has yet to be quenched.
— —
Follow Joe Concha on Twitter @JoeConchaTV
Have a tip we should know? tips@mediaite.com