Will Dennis Rodman Be The First American To Meet North Korean Leader Kim Jong-un?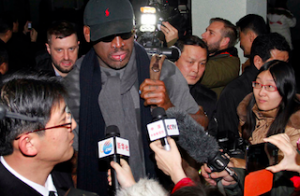 North Korea's supreme leader Kim Jong-un has yet to come face-to-face with any American diplomats since he succeeded his father in 2011. And now, it's becoming increasingly likely the first American he will meet will be former NBA wildman Dennis Rodman.
Rodman arrived in North Korea on Tuesday along with members of the Harlem Globetrotters to film part a of documentary being produced by VICE magazine for HBO. The players plan to run a basketball camp for North Korean children and VICE has hinted that Kim Jong-un himself may attend one of their planned games.
VICE founder Shane Smith issued a statement about the project, which he hopes will use basketball to bridge a gap between the two countries. "These channels of cultural communication might appear untraditional, and perhaps they are," Smith said. "But we think it's important just to keep the lines open. And if Washington isn't going to send their Generals then we'll send our Globetrotters."
The basketball mission comes shortly after Google CEO Eric Schmidt and former New Mexico Governor Bill Richardson traveled to North Korea (and took some heat from Sen. John McCain and others) for complicating the State Department's diplomatic efforts with the country.
Upon arrival in Pyongyang, Rodman told reporters that he was hoping "everything will be OK" and that "the kids will have a good time for the game." He and the other players posed to photos in front of the many photographers stationed in and around the airport. Here's hoping Rodman makes a good impression.
Watch video below, via AP:
—
>> Follow Matt Wilstein (@TheMattWilstein) on Twitter
Have a tip we should know? [email protected]