Will Ferrell And Zach Galifianakis Give Hilariously Awkward Interview On CNN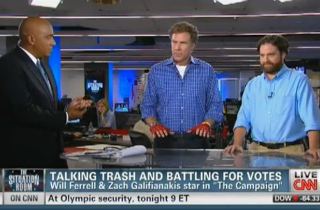 In support of their new movie The Campaign, comedians Will Ferrell and Zach Galifianakis dropped by CNN for what turned out to be a strange interview — replete with awkward questions from CNN host Joe Johns about baby-punching; a handful of frustratingly short soundbites; deadpanned answers from the two comedians; and a goofy attempt by CNN to insert the Romney aide's "kiss my ass" outburst into the interview.
Johns began the segment asking Ferrell and Galifianakis about the infamous baby-punching scene from The Campaign, pressing the comedians over whether the baby actor cried and whether he was related to Galifianakis.
The interview then turned to CNN anchor Wolf Blitzer's cameo in the movie, which the comedians rated as "great," with Galifianakis adding that he and Blitzer got along because of their beards: "He's not a 'Just For Men' guy. That's one of his trade secrets."
Johns then mentioned that Galifianakis might have taken inspiration for his Campaign character from his uncle Nick Galifianakis, a former U.S. Congressman from North Carolina. CNN then aired an awkwardly brief clip of Rep. Galifianakis describing what it was like to campaign solely because, well, it's about campaigning and this is a movie called The Campaign (get it?!): "I was getting up at 4:30 and 5:00 and going to factories and trying to meet people." Galifianakis, unsure how to respond, said "Wow, that was sweet."
– RELATED: Will Ferrell And Zach Galifianakis Spoof American Politics In New Movie
Johns then asked Ferrell whether his obliviously narcissistic character was based on a combination of people like former Senator John Edwards and former President George W. Bush (whom Ferrell has famously imitated). Ferrell's hilariously non-cooperative response: "I've patterned my character after a combination of Geraldine Ferraro, Madeleine Albright, and John Sununu."
"Why?" Johns asked.
"I just like saying Sununu."
Johns then asked whether the movie does "a little bit of takeouts on the Koch Brothers, the conservative brothers who have done so much funding of politics." Galifianakis responded that "We didn't really want to take sides either left or right. But the one issue that we feel is pretty nonpartisan is just the massive amounts of money that are flowing into politics right now. And we kind of pointed that out in a way that's also humorous."
– RELATED: The Campaign Star Zach Galifianakis: Movie Was Partly Inspired By GOP Debates
After several unending questions about baby-punching and Ferrell's role in the popular film Anchorman, Johns asked the two to discuss the "trash talk" aspect of the movie, playing a two-second clip from the movie in which Galifianakis says something mean to Ferrell. Such a weirdly edited snippet left the two comedians appearing confused as to why such a short clip was played without real context, but they made dry jokes about their "sophisticated" trash talking and push onward anyhow.
And then, in a goofy attempt to attach current events to The Campaign's release, Johns mentioned that he was hoping to get a reaction from the comedian's respective characters on today's news that a Romney press secretary told the press in Poland to "kiss my ass" in response to their yelling of questions at the Republican candidate.
Each comedian gave brief but funny responses in their characters' voices and then the segment ended with the two asking if they could take the nearest table with them as a keepsake.
Watch the ridiculously awkward affair below, via CNN:
>> Follow Andrew Kirell (@AndrewKirell) on Twitter
Have a tip we should know? tips@mediaite.com