Will Keith Olbermann Name Phil Griffin 'Worst Person' Over Scarborough Suspension?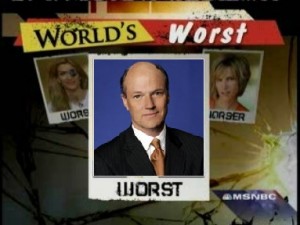 The announcement of Morning Joe host Joe Scarborough's two-day suspension for undisclosed political contributions brings with it an important test for fellow suspendee Keith Olbermann. Olbermann eloquently denounced his own "probably not legal" suspension upon his return from a long weekend, and now that he has resurrected the "Worst Person in the World" segment, an award to MSNBC President Phil Griffin presents an opportunity to demonstrate consistency.
The Scarborough suspension is also sure to draw a myriad of comparisons, fair or not.

Joe Scarborough was Treated More Respectfully Than Olbermann – If you believe Olbermann's account, which is supported by the sequence of events, and hasn't been disputed by Griffin, he found out about the suspension the same way you did: through media reports.
In sharp contrast, Scarborough obviously knew about the suspension ahead of the media, since his statement is included in MSNBC's announcement.
Keith Olbermann's Suspension Was "Indefinite," Scarborough's is Finite – While they both ended up with a two-day suspension, Olbermann's was announced as an "indefinite" suspension, fueling a weekend of intense speculation over Olbermann's future with the network. Scarborough and his fans face no such uncertainty.
Keith Olbermann is a Way Bigger Star Than Scarborough – Fans of the Countdown host may bristle at the notion that the two are comparably bright stars in the MSNBC galaxy, and while that may be true from a ratings standpoint, Morning Joe makes up for it by having an extremely influential viewership, particularly in Washington.
Scarborough Handled His Suspension with More Class – Conservatives and fans of Scarborough (not always the same people) might contrast various reports of Olbermann's kicking and screaming with Scarborough's meek statement, but given the differences in the way these stories were rolled out, that would not be a fair comparison.
Scarborough's Suspension is a Publicity Stunt – While Keith Olbermann pooh-poohed (even joking) speculation that his suspension was a ratings stunt, he acknowledged that it was a publicity win for the network. In Scarborough's case, the coordination of the Morning Joe host's statement with Griffin's announcement presents slightly stronger (but still fanciful) fodder for conspiracy theorists.
Scarborough Has More Cover for His Donations Than Olbermann Did – This is key, and all the more reason Olbermann should jump to Scarborough's defense. Much of the angst surrounding Olbermann's donations had to do with the notion that he positions himself as a journalist, counter-argued by the fact that he's never hidden his point of view. As a former GOP member of Congress, Scarborough is even more "out" as a conservative than Olbermann is as a progressive. In any case, the same arguments Olbermann employed in his own favor apply at least equally to Scarborough.
In any case, Phil Griffin's tit-for-tat decision to suspend Scarborough seems to indicate that either there is no plan to review the policy, or that there needed to be a conservative scalp to balance Olbermann's before doing so.
Have a tip we should know? tips@mediaite.com