Will MSNBC Hold Alec Baldwin to Rules on Political Donations, As They Did Olbermann?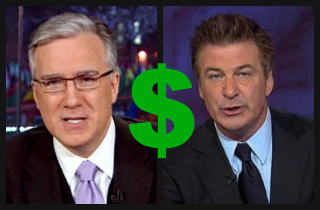 Mediaite readers may recall how in 2010, MSNBC temporarily suspended Keith Olbermann after it was revealed he had given the maximum amount of contributions to three Democratic political candidates. With that in mind, one can't help but wonder whether the network will hold new host and serial Democratic donor Alec Baldwin to the same standards; or whether the rules have changed entirely.

Olbermann's suspension came after MSNBC chief Phil Griffin was made aware of the donations and immediately responded to the violation of NBC News standards.
Since then, there have been other new MSNBC hires who've given to political candidates before (notably Chris Hayes) but none have anywhere near as extensive a donation history as Baldwin.
Since the 1992 elections, Baldwin has contributed nearly $152,000 to federal-level political candidates or committees, almost exclusively Democratic, according to the Center for Responsive Politics. The new MSNBC host has donated $500 or more to 30 different federal-level candidates, including nearly $10,000 to Sen. Chuck Schumer (D-NY) over the years. Other beneficiaries of Baldwin's donations include Hillary Clinton, the late Ted Kennedy, and the Democratic National Committee and Party of New York.
With a major midterm election season just around the bend, if Baldwin continues such generous campaign contributions, he will be in violation of NBC's policy, as we last saw it in 2010:
NBC and MSNBC TV require permission of the president of NBC News… "Anyone working for NBC News who takes part in civic or other outside activities may find that these activities jeopardize his or her standing as an impartial journalist because they may create the appearance of a conflict of interest. Such activities may include participation in or contributions to political campaigns or groups that espouse controversial positions. You should report any such potential conflicts in advance to, and obtain prior approval of, the President of NBC News or his designee."
Have the standards changed since then? Is there a new policy? Or will Baldwin be expected to cease all contributory actions while hosting an MSNBC show?
We reached out to MSNBC for comment earlier today and have not received a response.
— —
>> Follow Andrew Kirell (@AndrewKirell) on Twitter
Have a tip we should know? [email protected]