Will O'Donnell Have to Answer for Anti-Christie Ad like Fox & Friends Did for Anti-Obama Ad?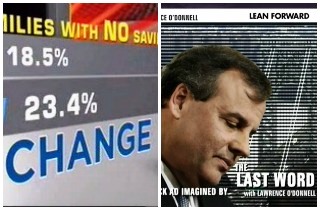 MSNBC's Lawrence O'Donnell proudly announced on Wednesday night that he "wrote" a hard-hitting, campaign-style political advertisement attacking Chris Christie. The ad, which he broadcast on his program, The Last Word, uses the New Jersey governor's own words against him — a common practice in campaign ads. "Don't let Christie embarrass and humiliate America," the ad's narrator urges the audience.

What's more, O'Donnell closed his program with instructions for his audience on how to produce similar anti-Christie ads on their own. He even provided them with some helpful clips which could facilitate the creation of those ads.
Visit NBCNews.com for breaking news, world news, and news about the economy
Harmless, right? Not so much.
In May of 2012, Fox News Channel's Fox & Friends found themselves in hot water when the program produced and aired their own campaign-style ad targeting President Barack Obama. The 4-minute commercial was roundly criticized by media observers and prompted Fox News Channel's Executive Vice President of Programming, Bill Shine, to issue a statement insisting that the ad was "was created by an associate producer and was not authorized at the senior executive level of the network."
RELATED: Fox & Friends Nearly Crosses The Line With Anti-Obama Web Ad
The ad prompted commentary and news reports from outlets like CBS News, ABC News, The Hollywood Reporter, The Huffington Post, The Guardian, Salon, and Mediaite asking whether Fox had crossed a line when they aired what many legitimately considered a pro-Republican attack ad.
Conservative media critics like HotAir's Ed Morrissey and The Baltimore Sun's David Zurawik came out strongly against the move by Fox. Zurawik said the video package "resembled propaganda films from 1930s Europe more than it did responsible TV politics of today."
Even the White House got involved. "White House spokesman Jay Carney had a stern conversation with Michael Clemente, a top executive at Fox News, about the video," The Huffington Post reported. "Carney said that 'Fox and Friends' had gone much too far."
Following a firestorm of controversy, Fox announced that the associate producer responsible for the ad was leaving for CNN.
Forgetting the lessons of that incident, O'Donnell fell into a similar trap. But without the tempo of a political campaign to inspire a backlash against the host's decision to, by his own admission, write and air an anti-Christie ad, will this move result in any consequences for MSNBC and O'Donnell?
Watch the Fox & Friends segment below, via Fox News:
[Photo via screen grab ]
— —
> >Follow Noah Rothman (@NoahCRothman) on Twitter
Have a tip we should know? tips@mediaite.com