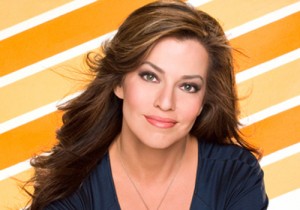 As CBS unveils yet another new team of bright and shiny faces for its cellar-dwelling Early Show, the wake-up star who's been performing under the radar and racking up huge ratings is HLN's Robin Meade, who hosts Morning Express.
While CNN's flagship morning show American Morning struggles with a potpourri of problems–including low ratings and repeated stories of anchors who barely tolerate each other and sometimes seem to let their squabbles slip into the show–the Meade show is a bit of a powerhouse. And CNN has certainly noticed.

Check out this release the network put out last night:
For the first time, HLN will top MSNBC among demo viewers for 12 consecutive months in both the morning (6a to 10a) as well as the daytime daypart (9a to 5p). Year-to-date, Morning Express tops Morning Joe by 53% (177k vs. 116k) and HLN is 31% ahead of MSNBC among demo viewers from 9a to 5p in the daytime daypart (105k vs. 80k).

In November, Morning Express with Robin Meade on HLN continues its winning streak over MSNBC's Morning Joe for the 20th consecutive month, beating Morning Joe by a margin of 27% (179k vs. 141k) among 25-54 viewers.
Even Robin Meade's efforts online have been impressive, with traffic to the Morning Express blog rising 15 percent in the last month and–get this–700 percent versus last year.
The buzz has some seriously wondering why Meade isn't sitting at that American Morning desk on CNN. Here's the Miami Herald's TV guy Glenn Garvin:
Meade has been whipping her CNN cousin competitors, John Roberts and Kiran Chetry, for quite a while now in terms of total viewers.

Gossip has circulated for months that CNN is on the verge of dumping Roberts and Chetry in favor of a program featuring an ideological clash between hosts or even a petting zoo, anything to attract some eyeballs. But with the show's audience dropping below a quarter of a million viewers, the rumors are gaining some urgency. They were not exactly quelled when Roberts snapped at a colleague on the air recently, which you can see in the clip below. The Huffington Post reported he was telling Chetry to quit typing so loudly. (Maybe she was doing her resume?) But who knows? Maybe he was really talking to Robin Meade.
Have a tip we should know? tips@mediaite.com