Will The Year's Most Politically Controversial Movies Triumph At The 2013 Oscars?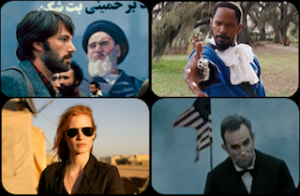 Of the nine films nominated for Best Picture at this year's Academy Awards, four of them have strong political themes and have permeated the political conversation since they were released late last year. But how will Argo, Django Unchained, Lincoln and Zero Dark Thirty fare on Sunday night?
After the nominations were announced last month, and both Ben Affleck and Kathryn Bigelow were snubbed in the Best Director category, there was plenty of noise on the right about liberal Hollywood deliberately punishing "pro-America" films. This was certainly not the case at the Golden Globe Awards where the big winner of the night turned out to be the CIA, as represented by Argo and Zero Dark Thirty along with Showtime's Homeland.
Despite the wonky Best Director category, for which a flawed system only includes five names to the Best Picture's nine, Argo is still shaping up to be the big frontrunner of the night, having virtually swept every major award leading up to the Oscars. And while Bigelow won't be picking up her second statue after becoming the first woman to win Best Director in 2009 for The Hurt Locker, Zero Dark Thirty could very well triumph in other categories.
Meanwhile, President Obama's favorite movie of the year — Steven Spielberg's Lincoln — was originally thought to be a lock in several categories, but will now be lucky to pick up a handful of awards. And the year's most controversial film, given the nation's new-found focus on guns — Quentin Tarantino's Django Unchained — could still manage to score some key victories. Below, I break down each film's chance of taking home gold on Sunday night.
ARGO
As as I said above, Argo is poised to capture Best Picture after taking the top spot at the Golden Globes along with the SAG, PGA, DGA and WGA. Ben Affleck isn't nominated for Best Director or he would surely be the frontrunner there. Of the film's 7 nominations, I'm predicting it'll take home 4.
The Best Editing awards often lines up with Best Picture, and despite its possible exaggerations, the suspenseful climax of the film was expertly edited. In addition, Chris Terrio has the best shot at winning for Best Adapted Screenplay, with possible upsets from Tony Kushner or David O. Russell. Finally, I'm giving the film Best Sound Editing for the opening embassy-storming scene alone.
Total Oscar Wins: 4
DJANGO UNCHAINED
Quentin Tarantino is another Best Picture director left of the Best Director list. Many people are predicting that he will pick up his second Best Original Screenplay award (after Pulp Fiction) but I'm guessing that the 99 "n-words" in his script could turn off some Academy voters.
I think the film's best shot at a top award is in the Best Supporting Actor category, where Christoph Waltz could pick up his second statue after 2010's Inglourious Basterds. The spoiler could be Robert De Niro, who would probably get my vote, but I think the Academy will want to reward this film somehow and this could be the only award it gets.
Total Oscar Wins: 1
LINCOLN
After the last two years brought Best Picture wins for The King's Speech and The Artist, Lincoln would be the traditional next step. But since Argo appears to have that award in the bag, Lincoln will have to find some love elsewhere. The Academy could be satisfied just giving an award to Daniel Day-Lewis, who is a total lock for Best Actor, but I'm predicting they will also give Steven Spielberg his third Best Director Oscar. Lincoln has the most nominations this year with 12 and with Affleck, Bigelow and Tarantino out of the running, Spielberg's biggest competition seems to be Ang Lee. And I'm just not seeing Life of Pi beating Lincoln in a category this big. And it doesn't hurt that the film has the backing of both President Obama and former President Bill Clinton.
Beyond those two awards, I think the film has the best shot at winning for John Williams' predictably epic Best Score as well as the award for Best Production Design.
Total Oscar Wins: 4
ZERO DARK THIRTY
Lincoln may have gotten an official White House screening, but the film that had most of Washington up in arms this year was Zero Dark Thirty. The proximity of the film's subject matter and the controversial nature of the torture scenes depicted made the film a target for both Republicans and Democrats. And if any of film will suffer at the Oscars because of its politics, this is it. It may have already cost Kathryn Bigelow an Best Director nomination. I know that if I had to personally pick which film this year was "best directed" I'd go with Zero Dark Thirty.
But all of that doesn't mean Zero Dark Thirty will go home empty-handed. Jessica Chastain's understated performance probably won't beat out Silver Linings Playbook's emotional Jennifer Lawrence. But I'm picking Mark Boal to follow up his 2009 victory for The Hurt Locker with another Best Original Screenplay award, beating out tough competition in Quentin Tarantino. The disputes about factual integrity regarding whether torture led to the killing of Osama bin Laden could turn off some voters, but the amount of pure reporting work Boal put into the project has to give him an edge.
Total Oscar Wins: 1
So, there you have it. In the end I'm prediction that of the four "political" films this year, it will be the less-controversial of the group (Argo and Lincoln) that beat out the decidedly more difficult projects (Django Unchained and Zero Dark Thirty).
Check back here on Mediaite Sunday night to find out if I'm right and don't miss our live coverage of the 2013 Academy Awards.
And, if you haven't already, make your predictions in our Oscar poll and see if you can do better than our writers.
—
>> Follow Matt Wilstein (@TheMattWilstein) on Twitter
Have a tip we should know? tips@mediaite.com