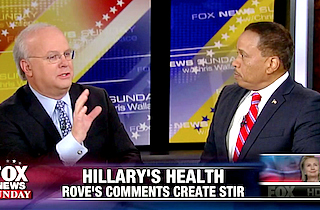 Former George W Bush political strategist Karl Rove generated a heap of controversy this week when he speculated on presumed presidential candidate Hillary Clinton's cognitive health following a 2011 concussion. A Fox News Sunday panel consisting of Fox analysts Juan Williams and Kirsten Powers told Rove he was "generating sympathy" for Clinton, a suggestion Rove adamantly fought.

"This was a harsh attack by Karl," Williams said. "This is a personal attack. It wasn't about ideas. The GOP at this moment is apoplectic over Hillary Clinton. Hillary Clinton is to blame for Benghazi. Hillary Clinton is to blame for Nigeria. Hillary Clinton is to blame for Monica Lewinsky. Hillary Clinton was a terrible Secretary of State! You guys are going crazy! You're beating her about the head and generating sympathy for her."
RELATED: Colbert Wonders if Rove's Obsession with Hillary's Health Stems from 'Serious Brain Injury'
"Be careful with your analogies," Rove said. "Hillary Clinton is going to have to cough up her medical records. Look, the Center for Disease Control says a concussion is a type of traumatic brain injury—"
"You're doing it right now!" Powers said. "You just stopped and now you're doing it again."
"Doesn't this remind everybody that you," Williams suggested, "and your past as a very effective political operative, have gone after people, the Swiftboating of John Kerry—"
"Which was entirely legitimate," Rove interrupted.
"I'm saying this as someone who's known you a long time," Williams said. "You're an effective political operative, but you may be helping Hillary Clinton."
Watch the video below, via Fox News:
[Image via screengrab]
——
>> Follow Evan McMurry (@evanmcmurry) on Twitter
Have a tip we should know? tips@mediaite.com