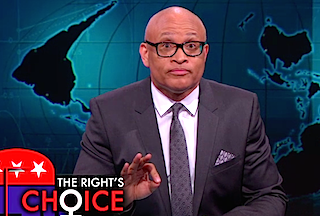 "Planned Parenthood is under attack like Meek Mill on a Drake diss track," Larry Wilmore said at the top of The Nightly Show on Tuesday, before diving into the thus-far failed attempts by Republicans to defund Planned Parenthood following the release of undercover videos that allegedly show the women's health organization trying to profit off of fetal tissue. The host called the group releasing the videos, The Center for Medical Progress, the "most ironically-named group since the ISIS Center for Women's Literacy."
After watching one of the undercover videos, Wilmore said it "sounds bad." But once he learned that fetal tissue was valuable for disease research, he came down on the side of Planned Parenthood. "But it's hard to defend Planned Parenthood, because it requires context, nuance and a command of the facts," he said, something that Juan Williams discovered was "very hard to do" on Fox News.
"That's what I'm calling this Planned Parenthood attack for exactly what it is," Wilmore continued. "It's a pap smear campaign." He went after conservatives for ignoring the facts and instead "reveling in shaming women, their health practitioners and doctors." As for the calls to defund Planned Parenthood, Wilmore pointed out that the $500 million in federal funds is not allowed to be used for abortions anyway, which only comprise 3% of the organization's services.
Responding to Jeb Bush's assertion that he's "not sure we need half a billion dollars for women's health issues," Wilmore said, "You're right! We need more!"
Watch video below, via Comedy Central:
[Photo via screengrab]
— —
>> Follow Matt Wilstein (@TheMattWilstein) on Twitter
Have a tip we should know? [email protected]