Winners Of The Week: Costas Commentary, O'Reilly's Peacock Penetration And Rachel's Rise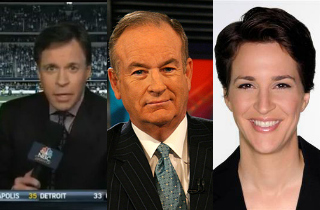 The week that was basically was a replay of the narrative from the previous week:
Countdown to the Cliff…
Countdown to the Cliff…
Countdown to the Cliff…
Since talks between Republicans and Democrats on said cliff are progressing as well as negotiations in the NHL Lockout, cable news producers were/are looking for something to keep viewers from dozing off. There's only so much mileage one can get out of talk around entitlement cuts, tax revenue versus rates, and any press conference featuring anyone with the last name "Reid" or "Boehner".
But this is the U.S., where shocking news is never at a premium. Enter the Kansas City Chiefs' Javon Belcher murder-suicide, a horrific story that included the late linebacker shooting his girlfriend/mother of his 3-month-old child nine times before later taking his own life in front of his GM and coach.
The story would have had about two days of legs in the news cycle, but when Bob Costas used a bully pulpit in the form of NBC's Sunday Night Football halftime show to speak out against guns, all hell broke loose on the cable news circuit.
Whether you agree or not with Costas' stance that contends Belcher and his girlfriend would be alive today if a gun hadn't been involved (for the record, I didn't agree…since someone of Belcher's size could have acted out in another fashion…just ask the family of Nicole Brown Simpson), the gun-control debate is one that hadn't been staged on Fox News, CNN or MSNBC in a long time.
Both President Obama and Mitt Romney largely avoided this topic on the campaign trail out of the obvious fear it would alienate gun advocates, particularly in swing states like Virginia and Ohio. But thanks to Costas, who was mocked by the right for having the audacity to actually state an opinion on a big story affecting the sport his network pays billions to broadcast, a re-examination of gun violence in this country has begun again, and that can only be a good thing.
Laughable calls for Costas to get suspended or even fired for simply providing perspective came from the same people who do nothing BUT bloviate every day for a living. You may not concur with Costas, but given his 30 years in network and cable television, he has more of a right to share his opinion than many of the gasbags we're hearing on television and radio on a daily basis.
Winner – Bill O'Reilly: Speaking of Costas, it's time to acknowledge the new (and only) Ambassador of Fox News. Let's face it: It's cable war out there…so for the highest rated and (to some) most polarizing personality in cable news to constantly be invited to appear on competing networks illustrates his broad appeal across the political spectrum.
In the past week alone, O'Reilly could be seen on NBC's Tonight Show with Jay Leno to discuss the election (What? Ed Schultz or Joe Scarborough from the sister network weren't available?) and later landed an interview with the aforementioned Costas, who did appear on Lawrence O'Donnell's MSNBC show first but still went across enemy lines to visit The Factor.
Unlike O'Donnell's interview, which was like hearing an annoying couple at a dinner party complete each other's sentences, the Costas-O'Reilly debate (Bill disagreed with Bob's position) was far more compelling to the viewer and far more challenging to the interviewee.
Other hosts on Fox rarely, if ever, appear anywhere outside the network. Over the past few weeks, O'Reilly has also been seen on the CBS Morning Show, Today Show, and did his periodic home-and-home series with Jon Stewart…the guy who eviscerates Fox News on a nightly basis.
That's why O'Reilly will never be caught in the ratings: He knows how to be compelling beyond one base.
Winner – Rachel Maddow: The MSNBC host had one of the better weeks in her 39-year existence. First, a visit with other MSNBC personalities to the White House to provide advice to the president on the fiscal cliff (oddly, the appointment with the president wasn't shared in advance with her audience). Three days later, she was nominated by The National Academy of Recording Arts and Sciences for a Grammy.
Of course, the selection comes not for being the next Adele, but instead for the audiobook recording of her New York Times best-seller, Drift: The Unmooring Of American Military Power in the "Best Spoken Word Album" category.
Perhaps the most amazing thing about the book: Fox News President Roger Ailes's kind endorsement found on the back cover. O'Reilly isn't the only one breaking barriers in the cable cold war…
If Maddow wins, it would mark the first time a cable news anchor has ever won a Grammy.
And on that high note (pun intended), we bid farewell for 168 hours until the next edition of Winners of the Week.
— —
>> Follow Joe Concha (@ConchSports) on Twitter
Have a tip we should know? [email protected]