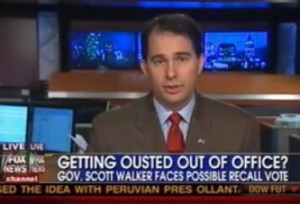 Facing a recall, Wisconsin Governor Scott Walker appeared on Fox & Friends Tuesday morning, and addressed the efforts of his opposition, as well as issuing a bit of a mea culpa for the way he handled legislation that eliminated collective bargaining in the state.
Walker first addressed the idea that recall petitions with names like "Mickey Mouse" are considered valid because they are properly dated. He said the entire process is "pretty unusual," adding that a local TV station found a man proudly boasting that he had signed 80 different recall petitions. Walker said they went to court to challenge this, stressing that the law says one person should be able to sign something one time. "For those who don't want to sign it, their voice should count as much as anyone else's," Walker said.
Asked how concerned he was about the recall efforts, Walker said that he was taking it very seriously. He noted that while the pro-recall forces have been running "very negative ads," with, "plenty of distortions out there," he has focused on staying positive, preferring to focus on how the reforms he enacted have worked. When prompted for any mistakes he might have made as governor, Walker — whose state, according to latest polls, is just 49% opposed to a recall — said that he initially looked at the governership from the angle of a small business owner and not a politician, deciding to fix the problem without first hammering home the idea of why the moves needed to be made.
"What I probably should have done was spend more time laying the groundwork, making the case over and over again about how school districts prior to our reforms would have to pay tens of millions of dollars more for things like their health insurance. You have examples of people abusing overtime, like the bus driver in Madison who's making $150,000 or more per year. Those sorts of excesses and abuses are things that we tried to fix but we didn't lay the groundwork for it. So when we did it, the national big government union bosses came out and spent literally millions of dollars attacking us."
Enjoy a clip of Walker's appearance below, courtesy of Fox News:
Have a tip we should know? tips@mediaite.com